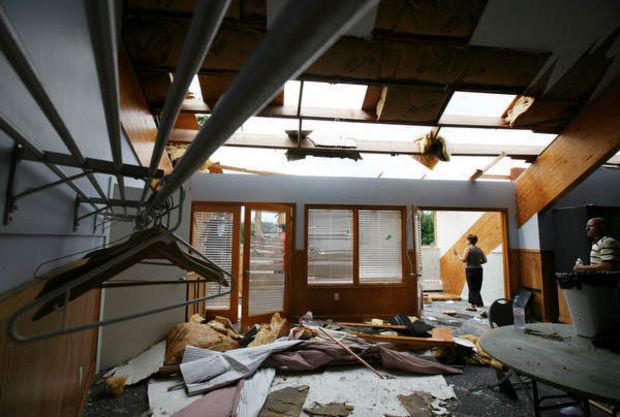 August Overview
After two warm and wet months to start off the summer of 2013, August provided an about face in the temperature department. The 71.6° statewide mean is 1.8° below the 1981-2010 average and ranks as the 41st coolest August since statewide records commenced in 1895. It was only 0.1° warmer than this past June. Precipitation averaged 4.50", which is 0.29" above normal and makes this the 51st wettest of the past 119 Augusts.
Temperature
What a change from July. There were only four afternoons when the temperature was 90° or higher somewhere in the state, compared with 18 in July. The warmest it got was 93° at Harrison (Hudson County) on the 21st and only nine stations reached 90° at some point during the month, compared to most of the 50 NJWxNet stations reaching that mark in July.
The 9th saw Pomona (Atlantic) and Cape May (Cape May) reach 90°. Not until the 20th was 90° achieved again, with Harrison up to 92°, Newark (Essex) 91°, and New Brunswick (Middlesex) 90°. Along with Harrison's 93° on the 21st, Ringwood (Passaic) maxed out at 91° and 90° was reached at New Brunswick, Hawthorne (Passaic), and Red Lion (Burlington). This was the warmest day of the month, with seven stations making it to 89° and the mildest location, Harvey Cedars (Ocean), at 80°. The 27th saw maximums of 90° at New Brunswick, Newark, and Cape May Courthouse (Cape May).
There were nine August mornings with low temperatures in the 40°s at one or more locations. Early in the month, Walpack (Sussex) fell to 49° on the 4th, 44° on the 5th, and 47° on the 6th. Pequest (Warren) was 47° on both the 5th and 6th. The 14th-17th was the next period with cool sleeping weather. Walpack dropped to 46° on the 14th and High Point and High Point Monument (Sussex) reached 49°. The 15th was the coolest morning of the month across NJ. Pequest fell to 43° and Walpack to 44°. A total of nine stations in the northwest hills and valleys were in the 40°s, with seven west-central NJ locations at 50°. Harvey Cedars was mildest at 62°. Pequest and Walpack were 46° on the 16th, Pequest 48°, and three stations at 49° on the 17th. The final two 40° mornings of the month were the 24th with 47° at Walpack and 49° in Pequest, and the 25th with these two stations at 44° and five others in the 40°s.
Precipitation and storms
As to be expected in a summer month of showers and thunderstorms, while statewide precipitation was near normal, there was a rather wide range of values from place to place. Not the extremes of July (which featured a 12.53" range), but still a 6.22" range. Gloucester County was the wet spot, with the following top station totals: Pitman 8.88", Franklin Township 8.11", Washington Township 7.33", and Clayton 7.25". Hillsborough (Somerset) at 7.21" was the wettest location outside of Gloucester. On the dry side, Millstone (Monmouth) only saw 2.66", Pennsville (Salem) 2.77", Middle Township (Cape May) 2.82", Atlantic City Marina (Atlantic) 2.85", and Pomona 2.93".
Rainfall exceeded an inch at one or more locations on seven days and 3.00" or more on four of these days. The first was a cool, rainy day experienced across NJ on August 1st. A statewide half-inch or more fell, with thunder rumbling in spots. The southwest corner of the state saw the most, which was often the case this month. Woodstown (Salem) caught 1.68", Woolwich (Gloucester) 1.67", and two East Greenwich (Gloucester) gauges 1.62" and 1.50". Most of the 14 CoCoRaHS stations that received more than an inch were in the southwest up into the central region.
The 7th brought scattered areas of a half-inch or more to the southern half of NJ, with less in the north. Lavallette (Ocean) received 1.35", Pine Beach (Ocean) 1.20", and Medford Township (Burlington) 1.01". Off and on showers and thunderstorms on the 8th-9th deposited heavy rain in the far northwest. High Point and High Point Monument (Sussex) received 6.16" and 5.23", respectively, over the period, with the vast majority falling early on the 9th. Sussex (Sussex) saw 3.69" and Wantage (Sussex) 2.85". Four reports from Blairstown (Warren) were submitted for this event, with like totals of 2.20", 2.08", 2.08", and 2.07". Flash flooding of roads and streams was common. The heavy totals in the northwest tapered rather quickly to less than an inch once past central sections and were less than 0.25" along the coast.
The most widespread heavy event of the month occurred on the 13th, mostly from sunrise to noon. The strongest of the storms produced damaging winds and flash flooding in southern portions, particularly from southwestern counties over to Ocean County and up into eastern Monmouth, with over 2" falling in many locations. The second NJ tornado of 2013 struck Manahawkin (Ocean) shortly after 10AM. This EF0 storm with 75-85 mph winds knocked down numerous trees and damaged some roofs along its two-mile long, 50-100 yard wide path. Fortunately there were no injuries. Other tree, power line, and roof damage occurred elsewhere in Ocean County as well as in Salem, Gloucester, Atlantic, and Burlington counties. Six locations had more than 4", including Winslow Township (Camden) 4.68", Washington Township (Gloucester) 4.50" and 4.09", Monroe Township (Gloucester) 4.28", Clayton (Gloucester) 4.14", and Ocean Township (Monmouth) 4.11". Twelve gauges caught 3.00"-3.99", 28 2.00"-2.99"" and 90 1.00"-1.99". The far northwest and Cape May County received only 0.10" or so.
Isolated heavy downpours during the morning and mid day hours of the 22nd deposited flooding rain on portions of central NJ. Peapack-Gladstone (Somerset) was deluged with 5.85". This necessitated at least one water rescue on a country road and washed out NJ Transit tracks in one location. Hillsborough (Somerset) received 3.52", Califon (Hunterdon) 3.18", Lebanon (Hunterdon) 3.15", and Bridgewater (Somerset) 3.02". Most central areas saw over an inch, which tapered to a half inch to the northeast. Areas in the northwest and scattered southern areas had less than 0.10". Some tree damage occurred in Gloucester County.
In what was otherwise a gorgeous "top ten" weekend throughout the Garden State, an isolated portion of eastern Ocean County received a pre-dawn dousing on the 24th. Lavallette picked up a quick 1.00", Point Pleasant 0.88", and Point Pleasant Beach 0.62".
The final stormy event of the month on the 28th brought multiple rounds of thunder and drenching rain to (where else?) southwestern counties as well as east into Cumberland, Cape May, and Atlantic counties. Two inches or more fell in some locations, including Vineland (Cumberland) 3.81", Estell Manor (Atlantic) 3.69", Franklin Township (Gloucester) 3.67", and Pittman (Gloucester) 3.23". Localized flash flooding resulted. Over an inch fell in the Delaware Valley up to Warren County, little to none in Ocean and Monmouth counties, and a few tenths elsewhere.
While stronger winds certainly occurred in scattered locations, only three of the 50 NJWxNet stations received a wind gust exceeding 40 mph during August. This included 43 mph at Cream Ridge (Monmouth) on the 1st and 45 mph and 44 mph gusts at Oswego Lake (Burlington) and Harvey Cedars (Ocean), respectively, on the 13th. This day was the windiest of the month, with many stations gusting into the 20-30 mph range and Hammonton (Atlantic) peaking at 38 mph and Clayton (Gloucester) 33 mph. The highest barometric pressure of the month was in the low to mid 30.40"s on the 25th. Lowest pressure was observed on the 13th, falling to the mid 29.60"s.
Summer 2013 Overview
Precipitation
Summer rainfall averaged 19.93" around the state. This is 7.18" above the 1981-2010 normal and ranks as the 2nd wettest on record (Table 1). Three of the seven wettest summers have been in the past five years. No other years in the top 10 fall closer than six years apart.
| Rank | Year | Summer Prcp |
| --- | --- | --- |
| 1 | 2011 | 24.25" |
| 2 | 2013 | 19.93" |
| 3 | 1928 | 19.67" |
| 4 | 1938 | 19.64" |
| 5 | 1903 | 19.50" |
| 6 | 1975 | 19.29" |
| 7 | 2009 | 19.07" |
| 8 | 1897 | 18.55" |
| 9 | 1945 | 17.98" |
| 10 | 1967 | 17.94" |
Table 1. The ten wettest summers (June-August) across New Jersey since 1895.
Not surprisingly, every portion of the state was above normal. The southwestern counties of Salem, Gloucester, and Camden were wettest with 20"-24" on average, which is 11"-12" above normal. Totals in Cumberland, Burlington, Mercer, Hunterdon, Somerset, Middlesex and Monmouth counties were 19"-22", which is 6"-8" above normal. Bergen and Passaic counties had the lowest totals of about 16", which is 3" above normal. The remaining nine counties were 3.5"-6" above average. Of course individual stations were more extreme, with Mt. Holly (Burlington) swamped with 28.60", followed by Franklin Township (Gloucester) 28.40", Woolwich Township (Gloucester) 27.01", Pittsgrove (Salem) 26.63", Lebanon (Hunterdon) 25.47", Lawrence Township (Mercer) 25.99", Franklin Township (Hunterdon) 25.25", and two Ewing stations each, rather amazingly, both at 25.18".
Temperature
While not as warm as the past three summers, 2013 averaged 73.8°, which is 0.9° above the 1981-2010 average. This ranks 2013, along with three other summers, as the 12th warmest. Or looked at another way, only eleven summers have been warmer, and eight of these have occurred since 1999.
| Rank | Year | Summer Avg Temp |
| --- | --- | --- |
| 1 | 2010 | 76.2° |
| 2 | 2005 | 75.6° |
| 3 | 2011 | 75.2° |
| 4 | 1949 | 74.6° |
| 5 | 1999 | 74.5° |
| 6 | 2002 | 74.4° |
| 6 | 2012 | 74.4° |
| 8 | 2006 | 74.3° |
| 9 | 1955 | 74.1° |
| 10 | 2008 | 74.0° |
| 11 | 1900 | 73.9° |
| 12 | 1943 | 73.8° |
| 12 | 1973 | 73.8° |
| 12 | 1988 | 73.8° |
| 12 | 2013 | 73.8° |
Table 2. The 15 warmest summers (June-August) across New Jersey since 1895.
As New Jersey continues to recover from Sandy, particular attention was paid to weather conditions that might help or hinder day trips to the shore, as many weekly rental properties were not available. Weekdays in June had a fair bit of rain, including a soaking from Tropical Storm Andrea. This was the wettest June on record, however after a dry but cool Memorial Day weekend, June weekends were warm and rain free. The four day 4th of July weekend was hot and dry. Most other July weekends were warm to hot and mainly dry. July was the 5th warmest on record, in large part due to many warm nights. August was cooler, but again, most weekends were dry with temperatures in the upper 70s to low 80s. Thus the overall appraisal must be that summer weather, particularly on the weekends, was a boon to shore activities.