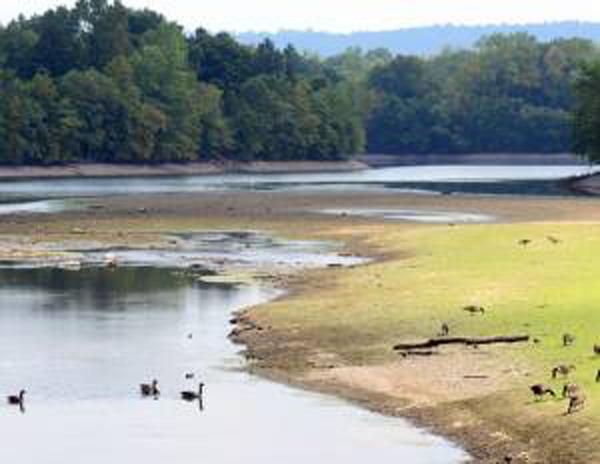 Water levels in the Oradell Reservoir (Bergen County) have been dropping steadily, leading to the request for voluntary water conservation (Photo by Tariq Zehawi/North Jersey Media Group).
August Overview
This month had quite a variety of weather conditions around the state. This resulted in some areas experiencing flash flooding and others encroaching drought conditions. Damage resulted from the flooding and one storm even produced a nocturnal "heat burst." Some minor brush fires and declining river, ground water, and reservoir levels accompanied subnormal rain totals. The dry conditions helped produce some wide daily swings from cool nighttime temperatures to consistently warm daytime maximums. Preliminary values show August 2015 to have a statewide average rainfall of 2.18". This is 2.03" below normal and ranks as the 13th driest since statewide records commenced in 1895 (Table 1). The 74.5° average temperature was 1.1° above the 1981–2010 mean and ranks 21st warmest.
| Rank | Year | Aug. Avg. Precip. |
| --- | --- | --- |
| 1 | 1964 | 0.90" |
| 2 | 1916 | 1.28" |
| 3 | 1896 | 1.75" |
| 4 | 1918 | 1.77" |
| 5 | 1995 | 1.92" |
| 6 | 1972 | 2.00" |
| 7 | 1925 | 2.01" |
| 8 | 1943 | 2.02" |
| 9 | 1980 | 2.09" |
| 10 | 1917 | 2.11" |
| 11 | 2005 | 2.13" |
| 12 | 1957 | 2.17" |
| 13 | 2015 | 2.18" |
| 14 | 1984 | 2.32" |
| 15 | 1923 | 2.33" |
| 16 | 1895 | 2.42" |
| 17 | 1966 | 2.44" |
| 18 | 1929 | 2.47" |
| 19 | 2010 | 2.48" |
| 20 | 2008 | 2.53" |
Table 1. Top 20 driest NJ Augusts since 1895.
Precipitation and storms
While most of New Jersey received below-average rainfall in August, there were exceptions. Blairstown (Warren) was the winner with 6.24", followed by Middle Township (Cape May) with 6.22" and 4.89" at two locations, White Township (Warren) 5.84", and New Providence (Union) 5.65". On the dry end, Franklin Township (Gloucester) only caught 0.58" for the month, followed by 0.84" at Winslow Township (Camden), 0.90" in Elk Township (Gloucester), 0.94" in Monroe Township (Gloucester), and 1.01" at Woodstown (Salem).
This dry month still had some rainy episodes, though most were not particularly widespread. The first event was a squall line that crossed central and northern areas during the pre-dawn hours on the 4th. Liberty Township (Warren County) had the top total with 0.91", followed by White Township with 0.89". A minor heat burst accompanied the line. This was best seen at the Hillsborough (Somerset) NJWxNet station, with the temperature jumping from 69° to 75° as the line approached, followed by the barometric pressure in one hour falling from 29.86" to 29.81 before jumping to 29.91" and finally settling back to 29.86" (Figures 1 and 2 below). Thunderstorms rumbled through Cape May County and adjacent areas of Cumberland and Atlantic counties from late on the 4th into early on the 5th. In Cape May County, Middle Township caught 1.25", Sea Isle City 1.20", and Woodbine 1.18".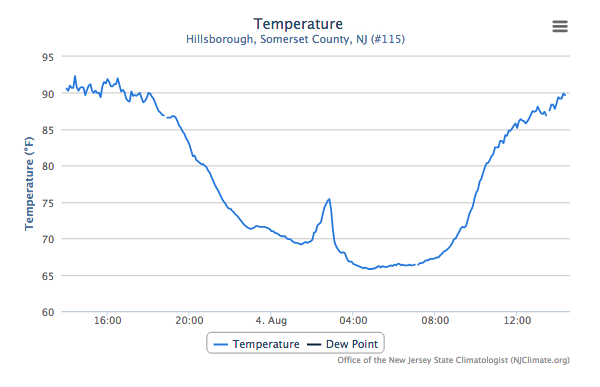 Figure 1. Hillsborough temperature time series from August 4th, 2015.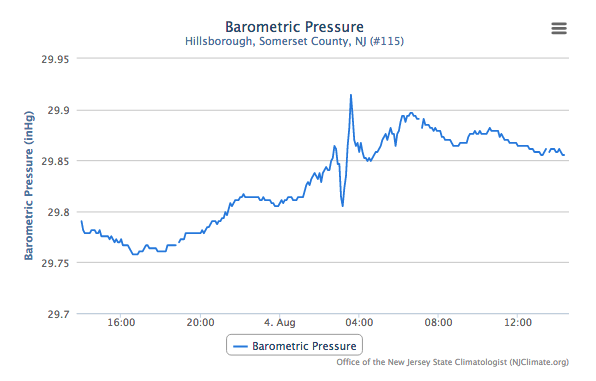 Figure 2. Hillsborough barometric pressure time series from August 4th, 2015.
The 11th saw the most widespread rain of the month. Beginning in the pre-dawn hours and ending during the evening, the 205 CoCoRaHS precipitation reports ranged between 1.77" in Frenchtown (Hunterdon) and Raritan (Somerset) and 0.43" at Franklin Township (Gloucester). 76 stations received between 1.00"–1.77", with other heavy totals including 1.70" in Wantage (Sussex), and 1.69" and 1.62" at two locations in Stafford Township (Ocean).
Widely-scattered showers during the afternoon of the 17th deposited 1.24" at Morristown (Morris), 0.96" in Lawrence Township (Mercer), and 0.79" in Frenchtown. Little rain fell elsewhere. So too were showers widely scattered during the afternoon of the 19th. This time, with more moisture available and the few storms moving slowly or remaining stationary, a damaging flash flood occurred in western Union County. A U.S. Geological Survey gauge in Mountainside (Union) measured 6.31" and a CoCoRaHS observer measured 4.02" in New Providence, 1.1 miles away from the Mountainside gauge. Meanwhile just several miles away, little to no rain fell. Radar suggests that perhaps a little more rain fell just to the southwest of Mountainside, though the gauge there was very close to the maximum storm total (Figure 3). The rain fell from 2:30–5:00 PM, and at its maximum dropped 3.82" in one hour. The deluge led to the collapse of a retaining wall at a quarry that crushed 10 cars and major flooding on Interstate 78 and State Route 22. Elsewhere, Blairstown picked up 1.69", White Township 1.24", and Cream Ridge (Monmouth) 1.74".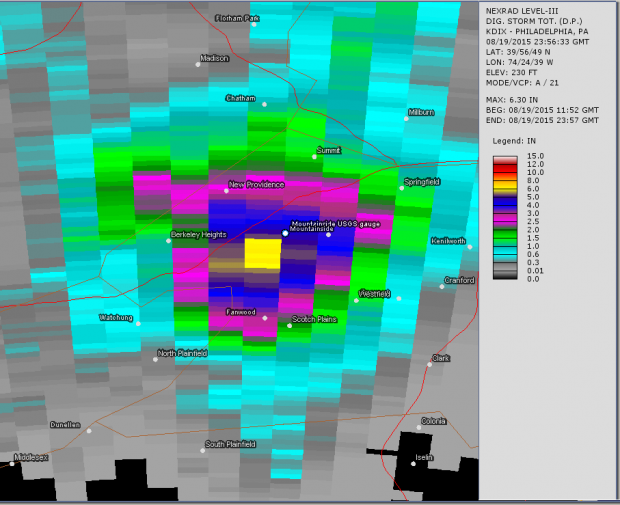 Figure 3. Radar-estimated storm-total precipitation in Union County on August 19, 2015.
More widespread storms moved into the northwest during the afternoon of the 20th and became heavier during the night over far southern and west central areas. As the daily CoCoRaHS map shows (Figure 4), considerably less rain fell in other areas, with 15 stations only picking up a tenth of an inch or less, while 62 of the 207 reporting sites received at least an inch. Top totals included 4.30" and 2.61" at two stations in Middle Township, North Wildwood (Cape May) 3.03", Montague (Sussex) 2.69", Andover (Sussex) 2.54", and Blairstown 2.47".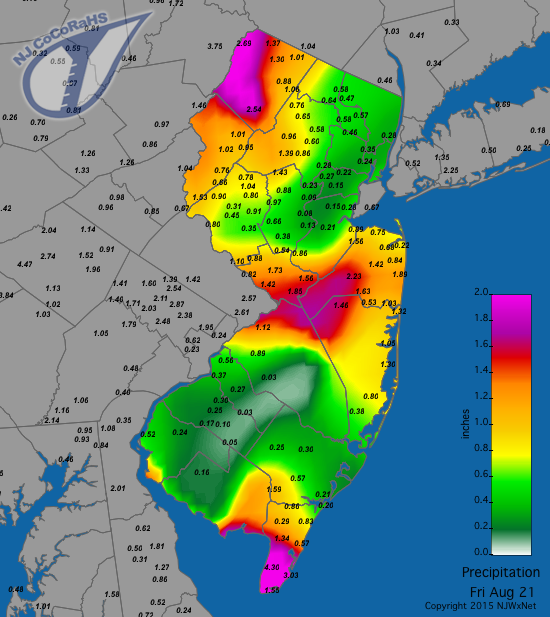 Figure 4. CoCoRaHS rainfall map for the morning of August 21, 2015.
Scattered pre-dawn showers on the 25th brought over a half inch to portions of the northwest, Highlands, and southern Cape May. Jefferson Township (Morris) received 0.93", Wildwood Crest (Cape May) 0.90", and Mine Hill Township (Morris) 0.73".
As the month ended, forests and grasslands in most portions of the state were quite dry, with underbrush withering. Fortunately brush fires have been minor, with the largest burning several acres in Kearny (Hudson) on the 26th. On the 31st, United Water NJ issued a call to their northeast Jersey customers for voluntary reductions in water use as reservoir levels were falling rapidly.
Temperature
On 17 August days the thermometer topped out at 90° or higher at one or more of the 55 NJWxNet stations (this past July only had 12 days). This included the 1st–5th, 14th–21st, 24th–25th, and 30th–31st. Ten stations reached 90° or 91° on the 1st and seven did the same on the 2nd. Hawthorne (Passaic) got to 94° on the 3rd with 5 stations at 92°. Four reached 93° on the 4th with Toms River (Ocean) up to 91° on the 5th.
Toms River hit 90° on the 14th, with Hawthorne at 95° and New Brunswick (Middlesex) to 94° on the 15th. These two stations added a degree to the previous day's readings on the 16th. The 17th was the hottest day of the month, with New Brunswick up to a record 98°, six stations at 96°, and 31 between 90°–95°. The other 17 were in the 80°s except Harvey Cedars (Ocean), which only made it to 79°. Hawthorne came in at 95° and New Brunswick at 94° on the 18th, while three stations reached 92° on the 19th. Cherry Hill (Camden) made it to 90° on the 20th and Toms River to 92° on the 21st.
Toms River reached 90° on the 24th and Hawthorne and New Brunswick 92° on the 25th. The month ended with Hamilton (Mercer) at 92° on the 30th, with six stations at 91°, and New Brunswick up to 94°, Jersey City (Hudson) 93°, and Hillsborough 92° on the 31st.
Minimum temperatures dipped into the 40°s at one or more NJWxNet locations on nine nights in August. Walpack (Sussex) and Pequest (Warren) started things off at 47° and 49°, respectively, on the 6th. Walpack followed with 48° on the 7th and 8th. Pequest fell to 47° and Walpack and Basking Ridge (Somerset) to 48° on the 14th. Pequest dropped to 47° on the 22nd, 23rd, and 26th, with Walpack at 49° on the 26th. The 28th was the coolest morning of the month, with Pequest down to 46°, Basking Ridge at 47°, and four other stations 48° or 49°. The 29th came in a close second, with Pequest 45°, Basking Ridge 47°, and Kingwood (Hunterdon) and Walpack each 49°.
An interesting aspect of the thermal regime across the state during the past month and back into July was the consistent run of warm days. Not since this past July 4th has there been a day with enough cloud cover and dampness to keep daytime maximum temperatures much below average. In fact in New Brunswick, through the end of August there had been 58 consecutive days with the maximum temperature of 82° or higher. This ongoing (as of early September) streak has already shattered the previous consecutive 82° or higher run of 41 days established in 2011. New Brunswick records extend back to 1896. Even if the consecutive run was relaxed to 80° or higher, the previous longest such run was 52 days in 1932.
Clearly, the Piedmont portion of the state was warmest in August, a situation that is certainly not unusual. It is interesting to compare daily maximums at New Brunswick, which is situated in this region, to those at High Point Monument (Sussex), at 1803 feet above sea level, the highest point in NJ and at Harvey Cedars, which is almost out to sea on Long Beach Island. August saw 13 days with highs of 90° or higher at New Brunswick (maximum 98°), one at Harvey Cedars up to 90°, and none at High Point. There were 18 days in the 80°s at New Brunswick, 15 at Harvey Cedars, and 9 at High Point. There were no days with highs in the 70°s in New Brunswick, 15 at Harvey Cedars, and 21 at High Point Monument. Only Harvey Cedars had one maximum in the 60°s.
Summer Overview
The summer started off with the 4th wettest June of the past 121 years. This was so very welcome, given how dry conditions had been in May, the 3rd driest on record. The hefty June totals were also fortunate, since the remainder of the summer was on the dry side. Statewide, June–August precipitation averaged 14.36", which is 1.61" above normal and is the 42nd wettest summer of the past 121. However the July–August total of 6.07" was 2.66" below normal and ranks 18th driest.
The northwest and southern portions of the state had the most summer rainfall. This includes Blairstown with 23.41", Montague 22.85", White Township 22.67", Franklin Township (Gloucester) 21.43", Liberty Township 20.79", Upper Deerfield (Cumberland) 20.68", Pittsgrove (Salem) 20.56", and Buena Vista (Atlantic) 20.23". Locations in northeast and central NJ had the least rainfall. This includes Hillsborough with 10.15", Red Bank (Monmouth) 10.30", Maplewood (Essex) 10.38", Edison (Middlesex) 10.59", Palisades Park (Bergen) 10.65", Howell (Monmouth) 10.67", and Long Branch (Monmouth) 10.65".
Each summer month had warmer-than-average temperatures, but none excessively so. Overall, the statewide average temperature of 73.5° was 0.7° above the 1981–2010 average and ranked as the 19th warmest summer on record back to 1895. This summer was not as hot as those in 2010–2013, which ranked 1st, 3rd, 6th, and 12th warmest, respectively, but was not as comfortable as last summer, which ranked as the 54th warmest.
Much like last summer, most weekends and holidays in recent months have had terrific weather. Going back to Memorial Day weekend (May 23rd–25th) and extending through the last weekend in August, we evaluated the 32 weekend/holiday days. This included looking at maximum temperatures, daily precipitation, and average solar radiation at a handful of stations up and down the coast (though results generally hold throughout the state). A combination of these observations and some subjective judgment had us awarding each day a double thumbs up, thumbs up, neutral, thumbs down, or a double thumbs down. For the season, 12 days earned a double thumbs up (as compared with 11 in 2014), 11 a single thumbs up (10 last year), 6 were neutral (4 last year), 5 a thumbs down (4 last year), and 1 a double thumbs down (June 27; 1 last year). While ratings are not available for previous summers, we are confident that not too many recent ones have been any nicer than these past two.