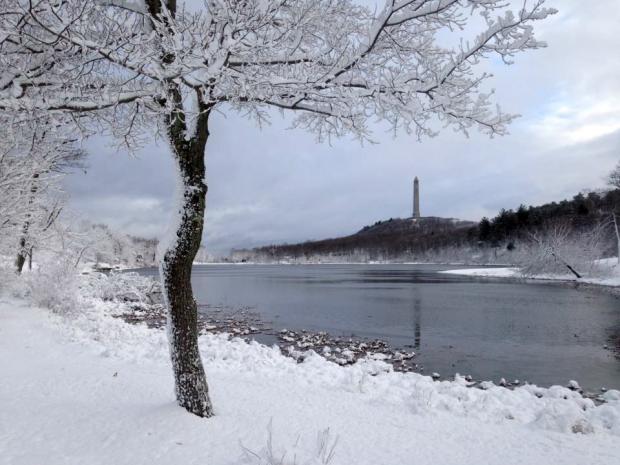 A snowy scene at High Point Monument (Sussex County) on November 20 after a 6.5" snowfall (photo by Shawn Viggiano).
November Overview
Much like the entire fall season, the transition into the cold half of the year was in no great hurry in November. Leaves dropped from ten days to two weeks later than normal, but eventually by the 28th the temperature fell to the freezing mark at West Cape May (Cape May County) and Newark Airport (Essex), these being the last locations in the state to experience their first freeze. A major exception to the slowly-transitioning pattern was the moderate high-elevation snowfall the weekend before Thanksgiving.
Drought conditions continued to be worrisome across the state, even spreading southwards. However, back-to-back heavy rainfall events on the 29th and 30th provided some replenishment to thirsty soils and began adding water to surface reservoirs across central and northern counties. It will be interesting to see if the atmospheric pattern change that delivered the late-month soakings is fleeting or will be longer lasting. Monthly precipitation (rain and melted snow) averaged 2.48" across NJ. This is 1.13" below the 1981–2010 average and is the 43rd driest November since 1895. It is worth noting that most of the National Weather Service stations that go into determining this average report in the morning. Thus the rain that fell later on the 30th is not factored into the monthly average; rather, it will be part of the December total. Snowfall averaged 0.4" for NJ but broken into regions amounted to 1.3" in the north, 0.1" central, and 0" south. The statewide total is average for Novembers between 1981–2010 but 0.7" below the 1894–present average.
Despite a few cold spells, the average statewide November temperature of 46.8° was 1.6° above normal. This ranks as the 17th mildest November of the past 122 years.
Precipitation and Storms
November precipitation was above average in the northeast and well-below average in the far south. Lyndhurst (Bergen) was wettest at 5.78". This was followed by 5.51" in Westfield (Union), 5.00" in both Harrison (Hudson) and Jersey City (Hudson), 4.92" at Palisades Park (Bergen), and 4.83" in Maplewood (Essex). On the other hand, in Cape May County, Wildwood Crest only saw 0.42", West Cape May 0.43", and three Middle Township gauges caught 0.54", 0.55", and 0.64". In Cumberland County, Fortescue only received 0.58" and Upper Deerfield 0.72".
There were five events where 0.50" or more rain or the melted equivalent of snow fell at one or more locations across NJ. The first of these did not occur until the daytime hours of the 9th when Maplewood saw 0.59", Westfield 0.53", and Pennsville (Salem) and Montgomery (Somerset) 0.50". Elsewhere, several tenths of an inch fell over most areas, with the least occurring in the far northwest and along the Atlantic coast. The overall dry conditions during the early month contributed to a brush fire covering over 50 acres in Wawayanda State Park in West Milford (Passaic) on the 13th–14th.
A more substantial storm soaked portions of the state during the first half of the 15th. A heavy band of rain swung from Monmouth County up into the northeast and then westward into the Highlands. Top honors went to Little Falls (Passaic) with 2.32", followed by 2.31" at Harrison, Wayne (Passaic) 2.28", Palisades Park 2.13", and Rumson (Monmouth) 2.10". Some 56 of the 203 CoCoRaHS reports exceeded 1.00", while in west central and southwest areas no rain was observed in Washington (Warren), Philipsburg (Warren), and Salem (Salem).
A very mild afternoon on the 19th was followed by a powerful frontal system that began to spread rain into western areas of the state come mid-evening. The precipitation quickly mixed with or changed to sleet and snow in northern and central locations, accompanied by lightning and thunder in several locations. Rain and melted snow amounted to as much as 0.80" in Palisades Park, 0.72" in West Milford, and 0.70" at both Hawthorne (Passaic) and Andover (Sussex). Most of the northern half of NJ received 0.25"–0.50", with less than 0.10" south of Interstate 195. Twelve of NJ's 21 counties received measurable snow, with five of them seeing an inch or more accumulate at one or more locations. The largest totals in these counties, along with a few other reports, include 6.7" in Highland Lakes, 6.5" at High Point, and 6.0" in Vernon, all in Sussex County, 4.5" in West Milford, 4.0" in Green Pond and 3.5" at Schooleys Mountain, each in Morris County, 3.2" in Glen Gardener (Hunterdon), and 2.0" in both Liberty Township and White Township in Warren County.
Heavy rain fell over most of New Jersey from pre-dawn to late evening on the 29th. Some 160 of the 225 reporting CoCoRaHS stations received over an inch. Topping the list was Cranford (Union) at 3.25", followed by South Plainfield (Middlesex) 3.19", Woodbridge (Middlesex) 2.36", and Maplewood 2.32". The wettest swath lined up from southern Hunterdon County northeast to Hudson County. Totals tapered off to less than an inch in the far northwest and below northern Burlington, northern Ocean, and central Monmouth counties. Only 0.10" fell at Wildwood Crest, with 0.14", 0.18", and 0.21" at three Middle Township stations.
Rain resumed around daybreak on the 30th and continued into the predawn of December 1st. As mentioned previously, most event reports will factor into December precipitation totals, but since the majority of the rain fell on the 30th it is worth noting in this report that Stockton (Hunterdon) led the way with 2.00" and 1.72" at two locations, followed by 1.75" in Vernon, 1.71" at Ringwood (Passaic), and 1.68" in Denville (Morris). Heaviest totals were from Mercer and Middlesex counties northward, once again tapering toward the far south. Cape May County again took it on the chin, with less than 0.20" reported.
The barometer rose to about 30.50" across most of New Jersey on the 7th. It was as low as 29.50" on the 30th.
Wind gusts topped 40 mph on nine November days at one or more NJWxNet station. The first instance was on the 10th when gusts reached 45 mph at Wantage (Sussex) and 40 mph at High Point Monument (Sussex). The Monument reached 55 mph on the 11th and Wantage 49 mph, while the next highest gust was 38 mph at Sea Girt (Ocean). High Point Monument topped out at 41 mph on the 12th and 40 mph on the 16th. A string of windy days began on the 19th, with Fortescue up to 53 mph, Wantage 50 mph, High Point Monument 48 mph, and ten NJWxNet stations between 41–45 mph. The 20th saw the Monument up to 52 mph, Fortescue 51 mph, Seaside Heights (Ocean) 48 mph, 18 stations between 40–46 mph, and 28 others from 30–39 mph. The Monument gusted to a monthly maximum 60 mph on the 21st, followed by Logan Township (Gloucester) at 47 mph, Pennsauken (Camden) 46 mph, and 15 stations between 40–45 mph. The Monument reached 54 mph on the 22nd, with no other station above 40 mph. Finally, Stewartsville (Warren) received a 42 mph gust on the 29th.
Temperature
November temperatures told a tale of two seasons, ranging from 16° to 82°. There were 12 days with the thermometer at or above 65° somewhere in the state and 15 days with the minimum 25° or colder. Given the dry conditions underfoot and atmospherically, there were some wide diurnal temperature ranges early in the month. For instance, Walpack (Sussex) had a high of 72° and low of 20° on the 8th, when Basking Ridge (Somerset) ranged from a statewide maximum of 73° to a minimum of 23°, second coldest in NJ. Walpack was the warmest and coldest location in the state on three occasions, ranging from 37° to 75° on the 2nd, 26° to 60° on the 10th, and 16° to 66° on the 14th.
The 2nd was the first day of 65° or higher, with 75° at Walpack, five stations at 74°, and 42 of the 64 NJWxNet sites from 70°–73°. Bivalve (Cumberland) was coolest at 63°. The 3rd was the warmest day of the month, with the temperature climbing to an unseasonable 82° at Cape May Courthouse (Cape May) and Woodbine (Cape May), 81° in Egg Harbor Township (Atlantic), and 80° at both Atlantic City Marina (Atlantic) and West Creek (Ocean). Some 23 stations topped out between 75°–79° and 30 from 70°–74°. High Point Monument was coolest at 64°.
Nine stations, from Logan Township north to Jersey City, reached 65° on the 5th, Fortescue and Woodbine hit 66° on the 6th, and Basking Ridge and Hawthorne were 73° on the 8th. Four stations from Cape May to Monmouth counties reached 66° on the 11th, Walpack 66° on the 14th, Greenwich (Cumberland) 65° on the 15th, and West Creek 65° on the 16th. The 18th saw Basking Ridge up to 75° following 27° in the morning (second lowest in the state), with Logan Township to 72° and Mansfield (Burlington) 71°. West Deptford (Gloucester) got to 75° on the 19th, with 15 stations between 70°–72°. Finally, the 30th saw temperatures spike to 67° in Dennis Township (Cape May), and 65° at Hammonton (Atlantic), Mannington Township (Salem), Sewell (Gloucester), and Upper Deerfield.
As noted above, New Jersey was not immune to cold air during November. As usual, the coldest locations were either in the higher northwest elevations, especially when cold air was invading the state, or in northwest valleys on calm clear nights. However, there were the occasional exceptions. Walpack and Basking Ridge recorded 23° minimums on the 1st. Walpack followed with lows of 25° on the 5th and 6th before falling to 19° on the 7th and to 20° on the 8th, with Pequest (Warren) and Basking Ridge at 23°.
The next cold shot arrived on the 12th, with Walpack at 20° and Pequest 21°. Another 19° minimum was observed at Walpack on the 12th, with Hopewell (Mercer) and Hope (Warren) at 24°. The lowest temperature of the month was the 16th at Walpack on the 14th, when Hopewell was next coldest at 21°.
Cold air blew into the state with mid-winter wind chills on the 20th when High Point Monument fell to 25° and then to 24° on the 21st. Maximum temperatures stayed below freezing at the Monument on both days at 31° and 29°, respectively. The 22nd only saw a 31° maximum at the Monument, however, the coldest minimums were in south Jersey, with 23° at Woodbine and 24° at Piney Hollow (Gloucester). Woodbine fell to 20° on the 23rd, along with 21° at Pequest and 22° at Piney Hollow and Greenwich. Pequest was coldest on the 26th at 25°, with Kingwood (Hunterdon) 22° on the 27th and Kingwood and Walpack 18° on the 28th.
On the 23rd, several other coastal stations had dipped below freezing for the first time this season. West Cape May and Newark Airport reached the freezing point for the first time on the 28th. Still, there was not one November morning when all NJWxNet stations were at or below the freezing mark. With the end of the growing season across NJ, a look at the range in dates between freezing temperatures at various locations shows the common wide dispersion. West Cape May had freeze free conditions from April 7th to November 27th, which amounts to 235 days. Newark was close behind with a 231-day growing season, followed by Atlantic City Mariana at 226 days and Harvey Cedars (Ocean) at 225 days. On the other hand, Walpack was only freeze-free from May 17th to September 25th, which amounts to 132 days. High Point Monument followed with a 161-day growing season, with a 172-day season at Pequest.
Fall Overview
As has been the case throughout the past year, seasonal mean temperatures were above average across the Garden State this past fall. The 57.8° average was 2.7° above the 1981-2010 normal. This ranked 6th warmest back to 1895, though it was only the 5th warmest since 2005 (Table 1). This past summer ranked 2nd warmest, spring 10th, and winter 2nd.
| Rank | Year | Fall Avg. Temp. |
| --- | --- | --- |
| 1 | 1931 | 58.5° |
| 2 | 2015 | 58.3° |
| 3 | 2005 | 58.0° |
| 4 | 2011 | 57.9° |
| 4 | 2007 | 57.9° |
| 6 | 2016 | 57.8° |
| 7 | 1961 | 57.2° |
| 8 | 1900 | 57.1° |
| 9 | 1985 | 57.0° |
| 10 | 1946 | 56.9° |
Table 1. The 10 warmest falls (September–November) across New Jersey since 1895.
Fall precipitation averaged 8.84" statewide. This is 2.71" below normal and ranks as the 41st driest of the past 122 years. Despite having a dry November, the far south had ample rain in September and October to lead the way with fall precipitation. Wildwood Crest received 14.02", followed by Middle Township at 13.85", and Lower Township (Cape May) with 13.65". Red Bank (Monmouth) caught 13.59" and Brick (Ocean) 13.41". West central NJ had the driest fall conditions. This included Bridgewater (Somerset) only receiving 4.92", Lebanon (Hunterdon) 4.98", Flemington (Hunterdon) 5.35", Clinton (Hunterdon) 5.46", and Bernards (Somerset) 5.48".