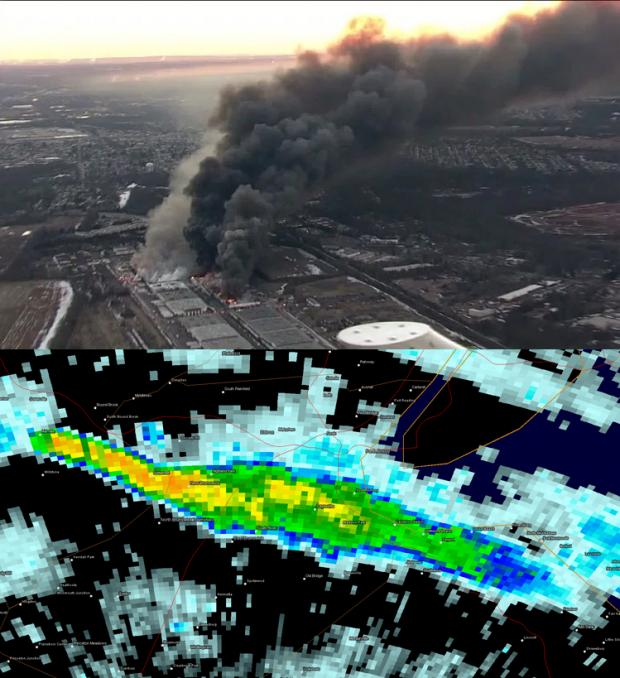 Strong winds fanned the flames of a massive warehouse fire in Hillsborough (Somerset County) on February 11th and 12th. The smoke was visible to millions of people in the region and was clearly detectable on radar (click here for a larger view).
February Overview
Much like this past January, the second month of 2016 had considerable swings and occasional extremes in temperature and precipitation. This included a brief, exceedingly cold mid-month outbreak with subzero wind chills and a late-month evening with severe thunderstorms bringing strong winds, hail, and flash flooding across NJ. A key indicator of the volatile weather pattern was the wind, which on 13 days gusted to 40 mph or higher somewhere in the state, with five of these days gusting to at least 50 mph. The statewide average temperature was 35.6°, which is 1.8° above the 1981–2010 normal. This ranks as the 19th mildest February since 1895. Precipitation (rain and melted snow) averaged 4.21". This is 1.35" above normal and ranks as the 24th wettest. Snowfall was below normal, with a statewide average of 5.1". This is 3.0" below normal and ranks as the 52nd least snowy of the past 122 Februaries. Northern counties tallied only 4.6" (-5.5"), the central region 6.3" (-2.7"), and the south 4.7" (-1.9").
Precipitation and storms
There were six events during the month that deposited more than an inch of liquid (rain and melted snow) somewhere in NJ. Top precipitation totals occurred in the northeast, with Little Falls (Passaic County) leading the way with 6.92". This was followed by Cedar Grove (Essex) with 6.49", Florham Park (Morris) 6.37", Chatham (Morris) 6.33", South Brunswick (Middlesex) 6.12", and Hawthorne (Passaic) 6.00". Some 45 NJ CoCoRaHS stations had February totals exceeding 5.00". On the dry side were some southwest stations, including 3.22" in Mount Ephraim (Camden), Upper Deerfield (Cumberland) with 3.32", and Franklin Township (Gloucester) 3.38".
Snowfall totaled as much as 9.2" in Freehold (Monmouth), 8.3" in Belmar (Monmouth), Howell (Monmouth) 8.1", Randolph and Madison (both in Morris) 7.3", and Stockton (Hunterdon) and Berkeley Township (Ocean) 7.2". Three events saw snow accumulate to 2.0" or more at multiple locations.
The first storm of the month was all rain, beginning in the pre-dawn of the 3rd and ending near dawn on the 4th. From the Route 1 corridor northward, 0.75" or more fell, while to the south totals were generally 0.25"–0.75". Topping the list of CoCoRaHS stations was Florham Park with 1.52", followed by Madison with 1.50", Peapack-Gladstone (Somerset) at 1.48", Little Falls 1.42", and Franklin Township (Hunterdon) 1.40". More than an inch fell at 47 CoCoRaHS stations, while two locations in Tabernacle (Burlington) came in with only 0.19" and 0.20".
The 5th brought morning snow to the east, which was heaviest in Middlesex, Monmouth, and northern Ocean counties, and moderate rain along the southern coast. Little to no precipitation fell in the western third of the state. The eastern third received 0.75" to over an inch of rain and/or melted snow, with totals tapering off toward the west. Lacey Township (Ocean) had 1.37", Wildwood Crest (Cape May) 1.34", Long Branch (Monmouth) 1.30", and Linwood (Atlantic) 1.29". Eight counties saw one or more locations receive at least 4.0" of snow. Top totals in these counties included Westwood (Bergen) 4.0", Cedar Grove 4.5", Hightstown (Mercer) 4.9", Cheesequake (Middlesex) 5.5", Neptune (Monmouth) 6.5", Denville and Randolph (Morris) 4.3", Point Pleasant and Toms River (Ocean) 6.0", and New Providence (Union) 5.0".
A powerful nor'easter that brought blizzard conditions to eastern Long Island and southeast New England generated strong winds along the Jersey coast and some light rain and snow, mainly to the southern half of NJ, from late on the 8th through dawn on the 10th. Most locations received less than 0.20" of rain and/or melted snow, though Pennsville and Salem, both in Salem County, had 0.47" and 0.45", respectively. Among stations collecting at least 2.0" of snow were Stockton 2.8", Pennsville 2.5", Hopewell (Mercer) and Lindenwold (Camden) each with 2.2", and Moorestown (Burlington) and Greenwich (Warren) each with 2.0".
The daytime hours of the 15th through the pre-dawn of the 16th first brought light snow from south to north that switched to freezing rain in central and northern areas in the evening and mostly to plain rain statewide during the overnight period. Cedar Grove caught 1.52", Woodbridge (Middlesex) 1.26", and Belmar 1.25". Statewide precipitation totals were close to 0.50" and snowfall from 0.5"–2.0" was common. Snow amounted to as much as 2.7" in Ramsey (Bergen), 2.5" in Tewksbury (Hunterdon), Ewing (Mercer) 2.5", Belmar 3.0", and Madison 3.0".
Moderate rain covered NJ during the afternoon of the 16th. This included thunderstorms in the south with strong winds that brought down trees and wires, which resulted power outages in parts of Cumberland, Salem, Gloucester, and Camden counties, along with some flash flooding of roads and streams. Statewide totals were mostly between 0.50"–1.00", though Upper Township (Cape May) saw 1.36", Greenwich (Warren) 1.23", and Estell Manor (Atlantic) and Hillsborough (Somerset) 1.18".
From late morning on the 23rd to pre-dawn on the 24th a mixed bag of precipitation fell around the state. Rain within about 15 miles of the coast totaled 0.50"–1.00", with 0.20"–0.50" more common elsewhere. Two Brick (Ocean) stations saw 1.48" and 1.40", and Ocean Township (Monmouth) 1.37". The far northwest received as much as 1.4" of snow in Montague (Sussex) and 1.0" in Vernon Township (Sussex).
Rain resumed later in the morning on the 24th, with mid-day thunderstorms in the northwest. Moderate to occasionally heavy rain fell during the afternoon with a tornado watch in place for the southern half of NJ (an evening EF2 tornado occurred in southeast Pennsylvania near White Horse). The evening brought severe thunderstorms, with small hail reported in Washington Township (Morris) and Vernon Township. Strong winds brought trees and wires down, resulting in power outages across portions of Cumberland, Burlington, Camden, Middlesex, Mercer, and Monmouth counties. There was flash flooding of streams and rivers, and minor river flooding was observed on the Saddle, Rockaway, and Millstone rivers in, respectively, Bergen, Morris, and Somerset counties. A soaking 1.50"–2.00" fell from Mercer and Middlesex counties northward, as well as in southwestern Salem County (Figure 1). Two swaths of 2.00" plus totals ran through western Warren and Sussex counties and from Mercer north northeastward to Passaic and western Bergen counties. Totals tapered to approximately 0.50" in coastal counties. The top accumulations were 3.07" in Salem (Salem), 2.91" at Verona (Essex), Montague 2.82", Long Hill Township (Morris) 2.74", and Little Falls 2.67". Of the 194 CoCoRaHS reports, 37 were between 2.00"–3.07", 51 from 1.50"–1.99", 49 between 1.00"–1.49", 46 from 0.50"–0.99", and 11 between 0.20" (Ocean City) and 0.49".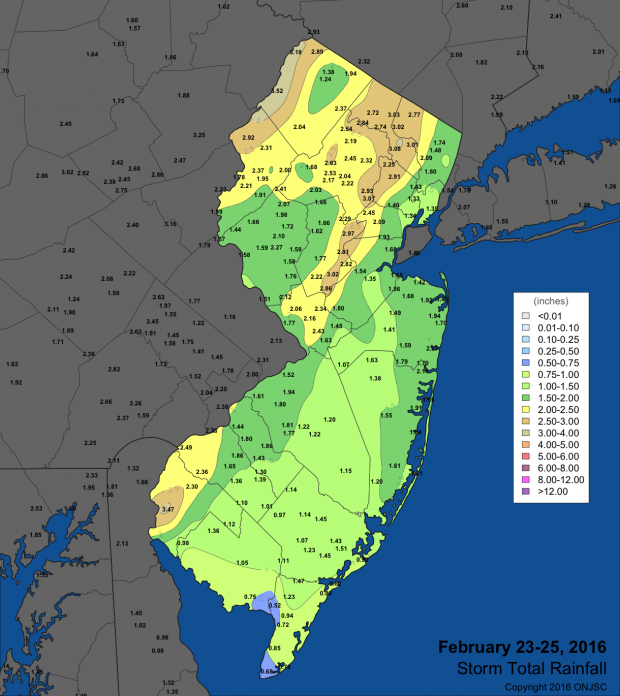 Figure 1. February 23rd–25th rainfall totals at CoCoRaHS, NWS Cooperative observers, and NJWxNet stations. For larger view, click here.
The barometer reached a monthly high on the 14th–15th between 30.55"–30.60" when NJ was under a frigid polar high (see the next section for the cold details). The 24th–25th saw pressures fall to 29.25"–29.30", not surprisingly accompanied by strong winds.
As mentioned previously, February was a windy month. As is often the case, the High Point Monument (Sussex) and Wantage (Sussex) stations were often the windiest, but on multiple occasions they shared honors with other locations across NJ. The Monument reached 41 mph on the 3rd, Wantage 41 mph on the 4th, and the Monument 44 mph on the 5th. Gusts reached as high as 43 mph along the coast at Harvey Cedars (Ocean) on the 8th.
Cold winds on the 11th gusted to 51 mph at Wantage, 50 mph at the Monument, 41 mph in Red Lion (Burlington), and 40 mph in Hillsborough. These strong westerly winds fanned the flames of a massive warehouse fire in Hillsborough, and lofted the smoke out to sea, first crossing eastern Somerset, northern Middlesex and northern Monmouth counties. The smoke was visible to millions of people in the region on the afternoon of the 11th through midday on the 12th, and was clearly recognized on radar (see photo and radar images accompanying this report).
The 13th saw bitter winds gust to 53 mph at High Point Monument, 49 mph in Wantage, between 40–43 mph at five NJWxNet stations, and 30–39 mph at 35 others. The Monument reached 50 mph on the 14th and Wantage 48 mph. The wind direction turned toward the south on the 16th, with Upper Deerfield and Sea Girt (Monmouth) each gusting to 55 mph, Harvey Cedars to 50 mph, 12 stations from 41–48 mph, and 32 from 30–39 mph. The Monument reached 40 mph on the 17th.
Storms on the 24th brought the strongest winds of the month. Statewide conditions were perhaps the windiest since Sandy in 2012. Berkeley Township gusted to 62 mph, followed by 55 mph at Wantage and Mullica (Atlantic), 50–51 mph at five stations, 40–48 mph at 13 locations, and 30–39 mph at 33 stations. Winds stayed rather strong on the 25th, with gusts to 47 mph in Hammonton (Atlantic), 44 at Harvey Cedars, and 40–43 mph in six other locations. The 26th saw gusts to 49 mph at the Monument, 46 mph in Wantage, and 41 mph at Sea Girt. The 29th found the Monument up to 44 mph and Wantage to 41 mph.
Temperature
On nine February days, maximum temperatures reached 60° or higher at one or more NJWxNet locations. On the 1st, Woodbine (Cape May), Atlantic City Marina (Atlantic), and Egg Harbor Township (Atlantic) all reached 67°. Some 34 of the 59 NJWxNet stations got to at least 60°, while High Point Monument and Hope (Warren) only got to 49°. Four stations hit 64° on the 3rd, with Cape May Courthouse (Cape May) at 61° and six stations up to 60° on the 4th.
Six of the last 10 days of February saw the state reach 60°. Howell, Oceanport (Monmouth), and Sea Girt topped out at 64° on the 20th, with 39 other stations between 60°–63°. Woodbine reached 68°, Egg Harbor Township 66°, and 22 other stations from 60°–65° on the 21st. Cherry Hill (Camden) got to 68°, New Brunswick (Middlesex) and Sicklerville (Camden) hit 67°, and 40 other locations were 60°–66° on the 24th. The 25th found New Brunswick at 66° and Mansfield (Burlington) at 65°, with 35 other locations from 60°–64°.
The month finished with Sicklerville up to 66°, eight stations at 64°, and 20 up to 63° on the 28th. On the 29th, Sicklerville was again 66°, joined by Woodbine, while 45 other locations topped out between 60°–65°.
On six February days minimum temperatures plunged below 10° at one or more NJWxNet location. The first of these was the 11th, when High Point Monument fell to 7° and High Point (Sussex; this station is 300 feet lower in elevation than the Monument station) reached 8°. The 12th found Walpack (Sussex) down to 3°, four stations to 4°, and 54 of the 59 NJWxNet stations 15° or colder. West Cape May (Cape May) was the "warm" spot at 21°. A reinforcement of bitter cold air, straight from the Arctic, arrived on the 13th, accompanied by strong winds. By late evening the thermometer dropped to -6° at High Point Monument, -4° at High Point, and -3° at Wantage. These are the three highest elevation stations in the NJWxNet, indicating the strong advective nature of the cold influx. All stations, except West Cape May at 17°, were 15° or colder by midnight. Making this cold all the more remarkable was the fact that there was little to no snow cover across NJ, with none at High Point, to help chill the air mass.
The morning of the 14th brought some of the most dangerous cold to NJ in recent decades. The thermometer bottomed out at -14° at the Monument, -12° at High Point, and -10° in Wantage. Sixteen stations fell to 0° to -9°, with all NJWxNet stations 13° or colder. Adding to the discomfort was the wind, which resulted in subzero wind chills across NJ for a number of hours. The coldest wind chill value achieved was -46° at High Point Monument. This outrageous value occurred during three five-minute intervals on the morning of the 14th. At 5:30 the temperature was -13° and the wind speed was 37 mph, at 7:15 it was -14° with a speed of 34 mph, and at 7:50 it was -14° with a wind speed of 34 mph. During this frigid onslaught, the maximum temperature at the Monument was only 19° on the 12th, 12° on the 13th, and 7° on the 14th.
The cold and wind began to slowly abate on the 15th, with morning lows at -2° in Walpack (Sussex) and -1° at the Monument and Wantage. By afternoon, the temperature rose to 51° at Oceanport and Toms River. The temperature fell below 10° on one more February morning, that being the 19th, when cold air drainage sank snow-free Walpack down to 8° and Pequest (Warren) to 9°.
Winter 2015-2016 Overview
Thanks mainly to December's record-shattering +12.2° above normal warmth, the 2015–2016 winter (December–February) was the 5th mildest since the 1895–1896 winter (Table 1). The 38.2° statewide average was 4.7° above the 1981–2010 normal. January was 0.1° below and February 1.8° above normal, neither of these anomalies remarkable. Rather, they were the result of the pronounced week-to-week swings in temperature during these months that almost evened things out with respect to normal.
Winter precipitation (rain and melted snow) tallied 12.84" statewide. This is 2.59" above average and ranked as the 20th wettest winter on record. Each month had above-average precipitation, led by February's +1.35" anomaly. With this moisture, late summer and fall 2015 drought concerns have been greatly minimized. Snowfall averaged 25.4", which is 4.3" above the three-month normal. The blizzard on January 23rd produced the lion's share of this snow. This storm only grazed Sussex County, leaving this normally snowiest portion of the state with the lowest season-to-date totals, with some locations barely over 12".
The milder-than-average winter temperatures and above-average precipitation fit the overall pattern of past NJ winters with, as is the case this season, strong El Niño events occurring in the tropical Pacific. History shows these winters to have an active storm track in eastern North America, particularly along the coast. This was certainly the case this winter. Past El Niño winters had no clear snowfall signal, except for the fact that most did not have weeks of near-continuous snow and cold. Several were among the least snowy on record, while a few had a major storm contribute the bulk of the season's snowfall. The latter was the case this season, much like the 1982-1983 El Niño winter, which had one major mid-February storm.
| Rank | Season | Winter Avg. Temp. |
| --- | --- | --- |
| 1 | 2001–2002 | 39.2° |
| 2 | 1931–1932 | 38.9° |
| 3 | 1997–1998 | 38.5° |
| 4 | 2011–2012 | 38.4° |
| 5 | 2015–2016 | 38.2° |
| 6 | 1948–1949 | 37.3° |
| 7 | 1936–1937 | 36.8° |
| 8 | 1990–1991 | 36.6° |
| 8 | 1998–1999 | 36.6° |
| 10 | 1952–1953 | 36.5° |
Table 1. Top 10 warmest NJ winters (December–February) since 1895.