Extremely heavy rain drenched portions of the Mid-Atlantic during the daytime hours on August 12 until after sunrise on the 13th. Starting off in the Washington-Baltimore area and moving up into central Long Island, a narrow ribbon of rainfall exceeding 5", and over 10" in a few locales, resulted in flash flooding that resulted in water rescues and many damaged roads and vehicles. Excessively heavy rains, occasionally accompanied by lightning, traveled up a frontal boundary that was associated with an unusually strong August low-pressure system situated over the Great Lakes. The atmospheric impulses riding up this front joined forces with abundant atmospheric moisture (in the top 1% for the region) to bring multiple inches per hour rainfall rates…for multiple hours.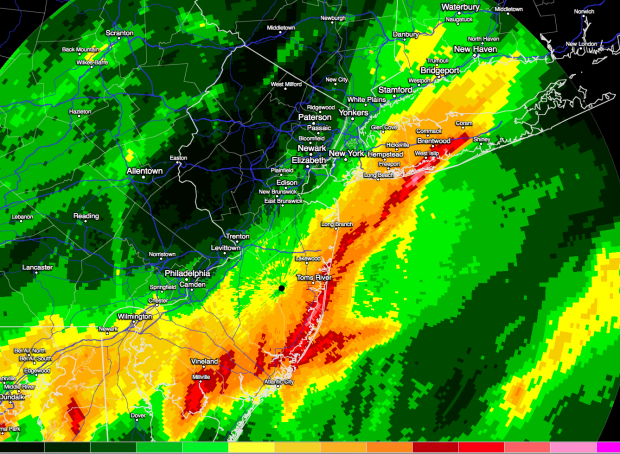 Radar estimate of storm precipitation. Areas in yellow are estimated to have received 2.00-2.49", grading to the deepest red (5.00"-5.99") and then in 2.00" increments further toward the center of the narrow path. (RadarScope image)
The heaviest rain was situated within less than a 10-mile wide path. Within 20 miles on either side, totals fell off to a mere inch or two, or even less. Such is the nature of these events, where despite the abundant atmospheric moisture, there is a finite amount of water available. The dynamics concentrated the atmospheric lifting, thus the condensation of the majority of the moisture and resultant rainfall, while adjacent areas balanced out the lifted air with subsiding air that greatly limited rainfall totals.
When all was said and done, outside of New Jersey as much as 13.27" fell at Islip, NY. Unofficially at the moment, this is a 24-hour rainfall record for New York State. Statistically it is an event expected to occur at a given location in this area once every 200 to 500 years (0.5% to 0.2% frequency). Baltimore-Washington International Airport received 6.30", this location's second wettest day on record, and a spotter in nearby Green Haven, MD reported 10.32".
Within the Garden State, 8.94" fell at the Millville (Cumberland County) airport. This is a 100-year (1% frequency) event for that area of NJ. Other NJ reports included: Newport (Cumberland) 8.60", Lacey Township (Ocean) 8.35", Little Egg Harbor (Ocean) 7.50", Stafford Township (Ocean) 7.24" and 5.54" (demonstrating the extreme local variability), Buena Vista (Atlantic) 6.79", Lavallette (Ocean) 6.55", Vineland (Cumberland) 6.51", Estell Manor (Atlantic) 6.03", and Point Pleasant Beach (Ocean) 6.02". In contrast, Wantage (Sussex) received only 0.09" and Peapack-Gladstone (Somerset) 0.10".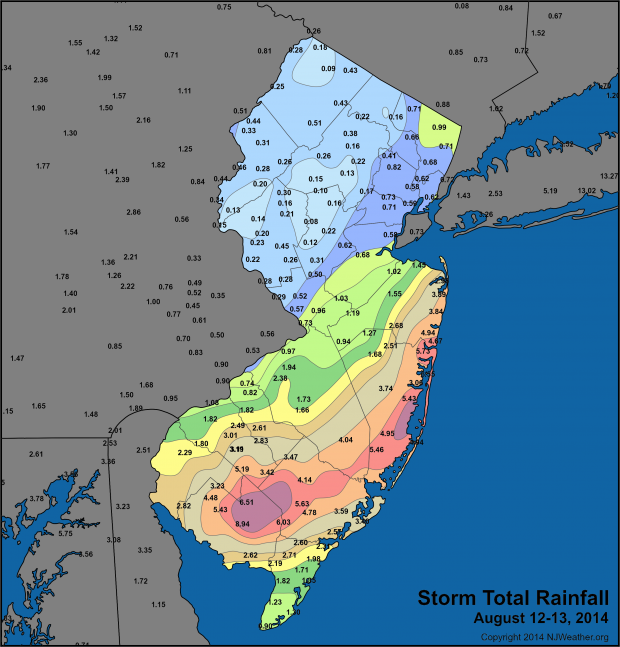 Ground-based rainfall totals from volunteer Community Collaborative Rain, Hail and Snow Network observers and National Weather Service (NWS) Cooperative Observers, and automated gauges in the NJ Weather and Climate Network and the NWS Automated Surface Observing System Network.
While far from unprecedented totals within NJ, the long path of these excessive rains is certainly noteworthy. For the record, the official wettest 24 hours on record in NJ is 14.81" at Tuckerton (Ocean) on August 19, 1939, while an unofficial total of 22.40" was reported at Ewan (Gloucester) on September 1, 1940.