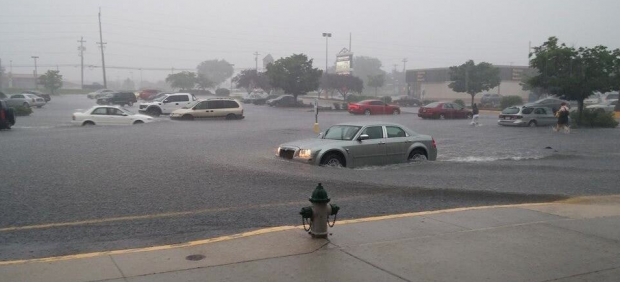 Flash flooding in the parking lot of the Collegetown Shopping Center in Glassboro, NJ.
Photo credit: Twitter user @hnh911
A steady stream of scattered showers and thunderstorms have brought heavy rain to several locations in New Jersey this week. And even more rain is in the forecast through the end of the week.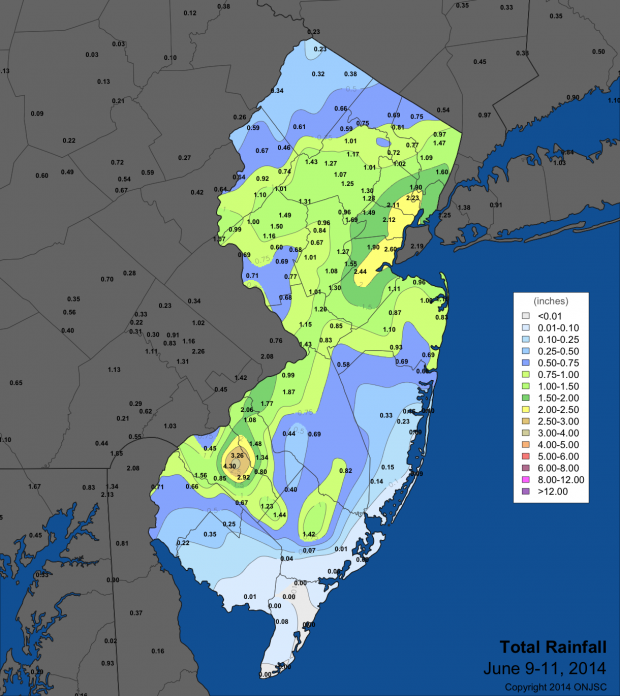 Storm total rainfall from June 9 to the morning of June 11. Generated using data from the New Jersey Weather & Climate Network, the National Weather Service (Mt. Holly and Upton offices), and CoCoRaHS.
The deluge began Monday morning, as commuters experienced periods of heavy, steady rain through parts of Mercer, Middlesex, Somerset, Union, Morris, Essex, and Bergen counties. The National Weather Service reported severe flash flooding in Newark, which required several motorists stranded by high water to be rescued.
Top NJ Rainfall Totals
Monday, June 9, 2014
Kearny
2.90"
New Brunswick
2.38"
Lyndhurst (NJMC)
2.24"
Newark Airport
1.87"
Cranford
1.81"
North Brunswick
1.73"
Piscataway
1.68"
Jersey City (LSC)
1.55"
Tuesday afternoon, another area of very heavy rain affected a narrow band in Camden, Gloucester, Burlington, and Atlantic counties. Rainfall estimates from the New Jersey Weather & Climate Network station in Sewell (Gloucester County) totaled almost 2 inches within just a half-hour from 4:30pm to 5:00pm on Tuesday. Widespread flash flooding, over a foot deep in spots, was reported to the National Weather Service by trained storm spotters and officials.
Top NJ Rainfall Totals
Tuesday, June 10, 2014
Pitman
4.11"
Sewell
2.72"
Monroe Twp. (Glou Co)
2.69"
Washington Twp.
2.54"
Clayton
2.12"
Hamilton Twp. (Atl Co)
1.34"
Jackson Twp
1.30"
So far for the month of June, the weather station at Newark Liberty International Airport has accumulated 3.17 inches of rain. That ranks this June 1-10 period as the 9th wettest start to June on record (since 1893). Normal precipitation at Newark for the entire month of June is 4.02".
You can monitor rapidly changing weather conditions throughout the state in real-time with the NJ Weather & Climate Network's new web site at http://www.NJWeather.org/.
Assistant State Climatologist Mathieu Gerbush contributed to this report.