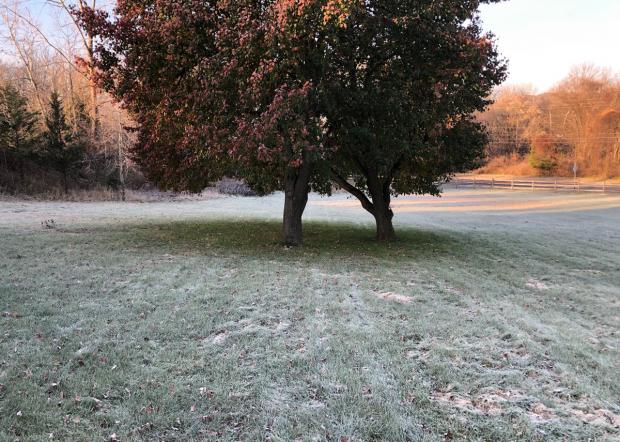 Frost encircles a tree in Sparta Township (Sussex County) on the morning of November 12th. Photo courtesy of Nick Stefano.
With today's (11/12) minimum temperature at West Cape May (Cape May County) and Lower Alloways Creek Township (Salem) falling to 30° and 32°, respectively, the growing season has ended across the Garden State. The growing season is considered to be the count of days between the last freeze of the spring and the first freeze of the fall (counting neither of those freezing days). This made for a 214 day growing season at West Cape May, while the Lower Alloways Creek Township weather station was just installed in July, thus a seasonal number is unavailable. These first freezes were preceded by a day at the Atlantic City Mariana (Atlantic) and Harvey Cedars (Ocean), which fell to 32° and 31°, respectively, on the 11th. Based on observations from these Rutgers NJ Weather Network stations (the 62 stations upon which the growing season is determined), these two locations had NJ's longest growing seasons. The Marina saw its last spring freeze on March 22nd, giving it a 233 day season. Harvey Cedars last froze on April 2nd, thus ended with a 222 day season.
These lengthy seasons are due to their locations adjacent to the Atlantic Ocean and Delaware Bay, whose waters significantly moderate temperature extremes, be they daily maximum or (in these cases) minimum temperatures compared to conditions more typically found inland. For instance, northwest NJ valleys are not only far away from major water bodies, but they are also prone to cold air draining off nearby hillsides into the valley bottoms on calm, clear nights. Thus the growing season is most often much shorter at these locations compared to anywhere else in NJ. For instance, at Walpack (Sussex) the 2018 season began on May 2nd and lasted until October 16th, a total of 168 days. The season at Pequest (Warren) was just a day longer, having last froze on May 1st and the first fall freeze coming on October 16th.
Now to see how long the freeze season lasts across New Jersey!