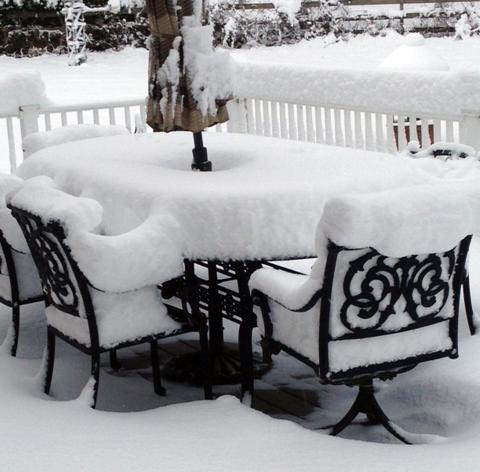 A fresh snowfall in Wantage (Sussex County) on Thanksgiving morning. Photo courtesy of Nick Stefano.
November Overview
While cooler conditions took some time to arrive in New Jersey this fall, once here they locked in for the most part, as the November average temperature of 41.9° was 3.7° below the 1981-2010 average. This ranks as the 24th coolest November of the past 120 years. November precipitation (rain and melted snow) averaged 4.58" across the state. This is 0.94" above average and ranks as 31st wettest. On two occasions measurable snow was reported in northern and central areas, with these regions, respectively, picking up 4.6" and 1.9" on average for the month, with over a foot accumulating at higher elevations. Despite no snow accumulating in the south, the statewide average was 1.7", which is 1.3" above average. It is only the second November to average above an inch since 1995, the other in 2012. A Thanksgiving eve storm delivered a white Thanksgiving to central and northern counties.
Precipitation and storms
As also noted this past October, there was a more than 4.00" range in precipitation totals across NJ in November. Ocean County was the wet spot, with Lavallette receiving 6.53", Berkeley 6.35", Lacey 6.28", Brick 6.13", and Stafford 6.10". Not far behind was Berlin (Camden County) at 5.99" and Woodland (Burlington) with 5.97". The far northwest was driest, with two locations in Wantage (Sussex) measuring 2.34" and 2.35", followed by Andover (Sussex) with 3.10". In the far south, Wildwood Crest (Cape May) only saw 3.27" and two Middle Township (Cape May) locations 3.34" and 3.39".
The largest monthly snowfall totals were observed in Highland Lakes (Sussex) with 15.5", Montague (Sussex) 14.3", West Milford (Passaic) 12.2", Vernon (Sussex) 11.9", 10.5", Hardyston (Sussex) 10.5", and Bethlehem (Hunterdon) 10.3".
A storm on the 1st put Ocean County into the precipitation lead for the month that it never relinquished. From the predawn hours through the late evening, Lavallette received 2.90", Lacey 2.78", and Berkeley 2.70". Of 206 Community Collaborative Rain, Hail and Snow Network (CoCoRaHS) observations, eight exceeded 2.00" and 43 were between 1.00"-1.99". The rainfall tapered off toward the far south coast and especially to the northwest, establishing a dry area theme for the month. In Sussex County, Montague only saw 0.06", Wantage 0.08" and Vernon 0.09".
Five days later, the pre-dawn to early evening hours of the 6th brought another widespread rainfall across NJ. This was punctuated by late-afternoon thunderstorms in northern Cape May County that brought the daily total to 0.93" in Upper Township and 0.87" and 0.91" at two Woodbine locations. Again, the northwest caught the least with 0.13" at Vernon and 0.17" in both Montague and Wantage.
Southwestern counties were blanketed with dense fog on the morning of the 11th. Fog was quite widespread across NJ on the morning of the 12th.
The afternoon of the 13th into the predawn hours of the 14th brought the first measurable snowfall of the season to a good portion of central and northern NJ. Rain turned to snow, leaving more than an inch at one or more locations in seven counties. Highland Lakes took top honors with 4.0", followed by 3.5" at High Point (Sussex), 3.3" at Lake Hopatcong (Morris), and 3.0" in Randolph (Morris). Other larger totals included 2.2" in West Milford and 2.0" in both Bethlehem and Holland (Hunterdon). Rain and melted snow measured 0.37" in Randolph and 0.36" at Sparta (Sussex). Most of the northern half of the state received about 0.25", while the south only accumulated about 0.10".
One of the more evenly distributed statewide soakings one might expect to ever see across NJ fell from the evening of the 16th through sunset on the 17th. An all-rain event, 173 of the 208 CoCoRaHS stations caught between 1.00" to 1.84". The top total was in Howell (Monmouth), followed by 1.65" in Woodbine and 1.64" at Woodbridge (Middlesex). Again, the far south and northwest received the least with Cape May (Cape May) coming in with 0.50", Montague 0.54", and two Wantage locations with 0.56" and 0.61".
The late evening of the 23rd to the post-dawn hours of the 24th saw several rainfall reports exceeding an inch. This included West Milford with 1.24", Hawthorne (Passaic) 1.22", and Rockaway and Mine Hill (Morris) each with 1.13". Elsewhere, quite a few locations came in between a half-inch and an inch. The southwest was least affected, with Merchantville (Camden) catching 0.25" and 0.29" at both Collingswood (Camden) and Pennsville (Salem).
The last November storm was a memorable one for those receiving enough snow to whiten the ground. Precipitation began before sunrise on the 26th (Thanksgiving eve) as rain across much of the state, although in higher locations the event was exclusively snow. During the morning, temperatures continued falling (they had been in the 50s and 60s the previous day!) and sleet and snow began to mix in and dominate over central and northern counties. Snowfall was heaviest and most widespread during the mid-day hours before again mixing with sleet and even turning back to rain at lower elevations. The southern half of the state saw mostly rain, with some sleet and snow mixing in at times and some snow near the end of the event (which continued as flurries during Thanksgiving morning).
Some 13 counties received an inch of snow or considerably more. The top totals from each of these counties are listed in Table 1 and a map of snowfall totals can be found in Figure 1 below (a full list of snowfall totals can be viewed here). Topping the list was Montague with 12.5", with other Sussex County locations above 10", including High Point and Highland Lakes (11.5"), Vernon (11.4"), and Wantage 10.7". In and near these communities, lower elevations received totals from several inches to as much as half a foot less than up high. Rain and melted snow/sleet amounted to 1.70" at Montague, 1.63" in Egg Harbor City (Atlantic), 1.59" in Holland, and 1.57" in Rockaway. Some 154 CoCoRaHS stations received between 1.00"-1.70", with central and north regions over an inch and the southern area between 0.75" and 1.00". The heavy, wet snow led to power outages for over 23,000 customers, mainly in the northwest hills.
| | | |
| --- | --- | --- |
| County | Community | Snowfall |
| Bergen | Oakland | 4.0", 5.1" (2 reports) |
| Burlington | Florence | 1.1" |
| Essex | Cedar Grove | 3.2", 3.5" (2) |
| Hudson | Harrison | 1.2" |
| Hunterdon | Bethlehem | 5.8", 8.2" (2) |
| Mercer | Hopewell, Princeton | 2.0" |
| Middlesex | Metuchen | 1.0", 2.0" (2) |
| Morris | Marcella | 7.4" |
| Passaic | West Milford | 10.0" |
| Somerset | Peapack-Gladstone | 2.5", 3.0" (2) |
| Sussex | Montague | 12.5" |
| Union | New Providence | 2.5" |
| Warren | Blairstown | 5.5" |
Table 1. Top snowfall totals for all NJ counties with at least one report of an inch or more on the 26th. Snow totals based on CoCoRaHS, NWS Spotter and NWS Cooperative Observing Network, and "independent" reports received by the ONJSC.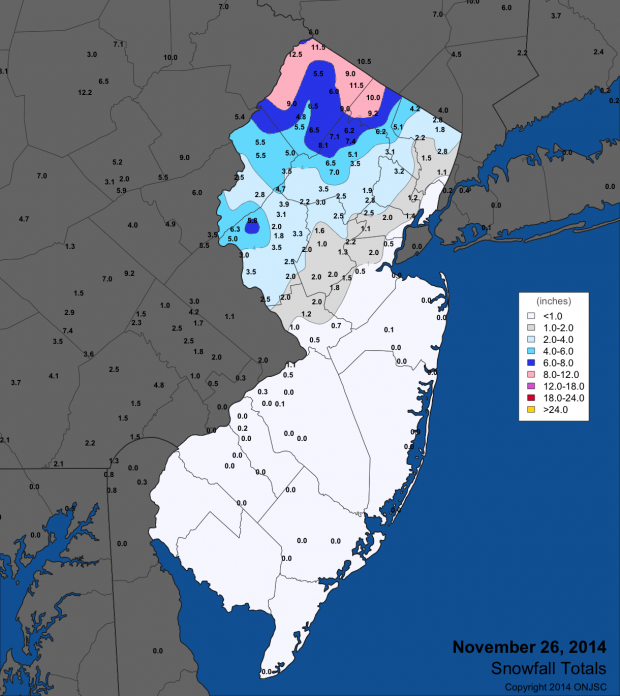 Figure 1. November 26 snowfall totals from National Weather Service (NWS) Cooperative observers and spotters, and CoCoRaHS volunteers. For larger view, click here.
The inch or more of snow on the ground the morning of the 27th in the northern half of the state made for the most widespread white Thanksgiving since 1989, when the entire state was under a blanket of 4-6" of fresh snow. Just behind 2014 was Thanksgiving 1971, when snow cover was mostly confined to middle to higher north Jersey elevations.
Ten November days saw winds gusting to 40 mph or higher at one or more of the 57 NJWxNet stations. The storm on the 1st brought gusts to 45 mph at Harvey Cedars (Ocean) and 42 mph in Seaside Heights (Ocean). As the storm departed and the atmospheric pressure gradient tightened, quite windy conditions prevailed across the state. High Point Monument (Sussex) topped out at 63 mph, followed by 48 mph at Harvey Cedars and 45 mph in Wantage (Sussex). Eight other stations maxed out between 40-44 mph and 29 stations had peak gusts of 30-39 mph. A gust of 42 mph was experienced at High Point Monument on the 3rd.
The 7th saw gusts to 44 mph at Bivalve (Cumberland), 43 mph at High Point Monument, and 41 mph at three other locations. Conditions calmed until the 17th when the Monument reached 44 mph, and the 18th with 41 mph gusts at Sea Girt (Monmouth) and Seaside Heights. The Monument reached 40 mph on the 20th.
A blast of warm air on the 24th brought gusts of 49 mph to Upper Deerfield (Cumberland) and 46 mph in Bivalve. Seven stations gusted between 40-44 mph and 26 peaked between 30-39 mph. The 25th brought a gust of 40 mph to Wantage, and the storm on the 26th saw a gust of 41 mph at Harvey Cedars.
The highest November atmospheric pressures across NJ were close to 30.55" on the 22nd, while on the 17th the pressure bottomed out close to 29.50".
Temperature
The 8th brought the first widespread freeze of the season to all but some immediate coastal locations. By the evening of the 15th, when West Cape May (Cape May) dropped below freezing, everywhere in the state had experienced a fall freeze. At West Cape May the last freeze of the past winter occurred on March 27th. Thus there were 232 consecutive freeze-free days at this location during the 2014 growing season. At the other end of the spectrum was Walpack, a valley location in Sussex County. There, the last spring freeze was on May 19th and the first this fall on September 23rd. Thus only a 126-day growing season at Walpack, an impressive 106 days shorter than at West Cape May. The next longest growing season was 212 days at Atlantic City Marina (Atlantic) and the next shortest 139 days in Pequest (Warren).
Over the course of November, nine days saw one or more NJWxNet station dip into the teens or single digits for a minimum temperature. The first was the 15th, when Walpack reached 16°, Pequest 17°, and four other stations at 18° or 19°. Walpack was 15° and Pequest 17° on the 16th. High Point Monument was coldest on the 18th at 13°, while a High Point station 300 feet lower in elevation reached 14°. The first single-digit observation of the season of 9° occurred at Walpack on the 19th, when both High Point stations sank to 11° and 26 stations were between 12°-19°. West Cape May only got down to 26°. The cold continued on the 20th with Basking Ridge (Somerset) at 15° and Pequest 16°. Walpack was 11° and Pequest 12° on the 21st.
The coldest morning of the month occurred on the 22nd, with Walpack at 5°, Pequest 9°, and 37 of the 56 NJWxNet stations between 10°-19°. Atlantic City Marina only fell to 27°. Record lows were noted on this day at some long-term NWS Cooperative stations, including 17° at New Brunswick (Middlesex) where observations extend back to 1893. The Walpack low was one of the coldest on record in NJ for so early in the season. The only location in the state that historically is as cold as Walpack is Layton, which is in a valley close to Walpack. Daily weather observations at Layton were gathered from 1900 to 1968 (Walpack observations only date back to the early 2000s). While November minimum temperatures dropped to 5° or lower on 10 occasions during that 69 year period at Layton, the only day that was colder than 6° and occurred earlier in the month than Walpack's 5° observation this year was a 2° minimum on November 16, 1908. Thus, while not an early season state record, Walpack's 5° minimum was awfully impressive.
The 28th saw High Point fall to 10° and Wantage 11°. On the 29th, Walpack reached 6°, and both High Point and Pequest 10°.
There were some mild days during November, including a record breaker wedged within the cold second half of the month. On 12 days, one or more stations equaled or exceeded 60°. Seven days made it to at least 65°. Of these, the 4th found Hamilton (Mercer), Red Lion (Burlington), and Sicklerville (Camden) up to 73°, with 27 other NJWxNet stations between 70°-72°. Five stations topped out at 69° on the 5th. Piney Hollow was 66° on the 10th and both Mansfield (Burlington) and Red Lion 65°. Cherry Hill (Camden), Hamilton (Mercer), and Mansfield were 72° on the 11th, with this mark also reached on the 12th at Mansfield and Sicklerville. Just two days later on the 14th, High Point Monument only made it to 32° for the first fully subfreezing day of the season at a NJ location.
The 24th was an impressive day for late-season warmth. Hamilton (Mercer) got to 75°, with Holmdel (Monmouth) at 74°. 32 other NJWxNet stations maxed out between 70°-73°. This included a record high of 73° in New Brunswick, just two days after the record low noted above. This warmth extended into the early morning of the 25th before a cold front arrived. Before it got through NJ, five stations recorded a daily maximum of 68°.
Fall Synopsis
As often happens during a season, monthly temperatures and precipitation totals tend to balance out. Fall 2014 was certainly no exception. A dry September, close to average October, and wet November led to an 11.03" statewide average seasonal total across NJ. This is 0.61" below average, yet due to the skewness of fall precipitation records, this ranks as the 53rd wettest of the past 120 years.
Temperatures were almost 1° above average in September and over 2° above in October. However, the -3.7° departure in November resulted in an average fall temperature of 55.3°, which is 0.3° below average. Still, given that the averaging period is 1981-2010 and that falls have generally warmed throughout the past century, this season ranked as the 43rd mildest of the past 120 years.