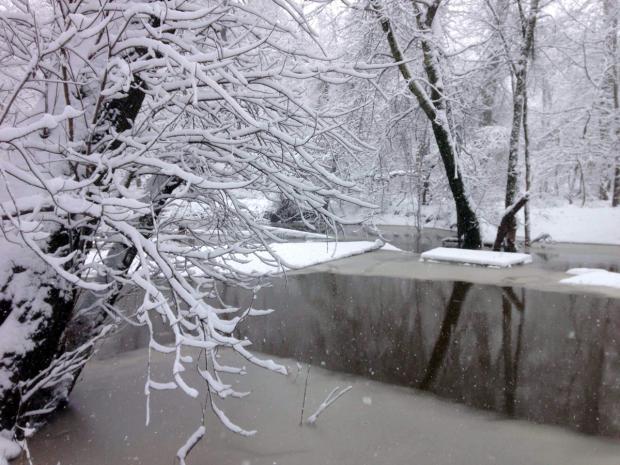 A snowy Six Mile Run along the Millstone River in Franklin Twp (Somerset County) on March 5th. Photo by Dave Robinson..
Overview
For the second consecutive year, March served as a meteorological exclamation point on an active cold and snowy season. As in 2013/14, this season had below-average November temperatures, milder-than-average December readings, and below-average January, February, and March tallies. The March temperature this year averaged 35.8°, which is 5.3° below normal and ranks as the 14th coldest since 1895. As seen in Table 1, this March was 0.5° "milder" than March 2014, which ranked 11th. With the exception of 1914/15 and 1940/41, no other consecutive Marches have averaged so cold in the past 121 years.
| Rank | Year | March Avg. Temp. |
| --- | --- | --- |
| 1 | 1916 | 31.3° |
| 2 | 1960 | 31.7° |
| 3 | 1896 | 33.6° |
| 4 | 1906 | 33.9° |
| 5 | 1941 | 34.2° |
| 6 | 1940 | 34.3° |
| 7 | 1926 | 34.7° |
| 8 | 1914 | 35.0° |
| 9 | 1900 | 35.1° |
| 9 | 1984 | 35.1° |
| 11 | 2014 | 35.3° |
| 12 | 1915 | 35.6° |
| 13 | 1937 | 35.7° |
| 14 | 2015 | 35.8° |
| 15 | 1934 | 36.1° |
Table 1. Top 10 coldest NJ Marches since 1895.
This was also the snowiest March statewide and in central NJ since 1993. The northern counties averaged 13.6" (which is 7.5" above normal), the central region was at 14.9" (+10.0"), and the southern counties 8.6" (+5.6"). The state as a whole averaged 11.5" (+7.2"), which is the 13th snowiest March on record. For the season through March snowfall statewide has averaged 34.5" (+8.4"), with the north 50.5" (+15.8"), central 41.4" (+14.4"), and south 22.3" (+2.3"). This is the northern division's first back-to-back 50"+ seasons since the winters of 1903/04 and 1904/05. More on the snow season in the April narrative.
March rain and melted snow accumulated to a statewide average of 4.95". This is 0.72" above normal and ranks as the 32nd wettest.
Temperature
Roughly three out of every four March days averaged below normal in the temperature department. However, on six days the thermometer managed to make it to 60° or higher at more than one location in the state. Woodbine (Cape May County) reached 62° on the 9th, with five other stations at 60°. The 10th saw Hammonton (Atlantic) at 61°, with three stations at 60°. Sicklerville (Camden) topped out at 64° on the 11th, with Egg Harbor Township (Atlantic) 63°, 11 stations at 62°, and 11 either 60° or 61°. The mildest day of the month was the 17th, when Cape May Courthouse (Cape May) and Woodbine reached 71°. Dennis Township (Cape May) and Egg Harbor Township got to 70°, and 31 locations saw maxima between 60°–69°. Up in the snow-covered northwest, High Point Monument (Sussex) only got to 44°. Toward month's end, Berkeley Township (Ocean), Hammonton, Howell (Monmouth), and South Harrison (Gloucester) reached 68°. The 31st saw Clayton (Gloucester) and Greenwich (Cumberland) up to 62°.
On the cold side of the ledger, daily minimum temperatures fell to 15° or colder at one or more locations on 11 days, including four during the last nine days of the month. Pequest (Warren) fell to -1° on the 1st, with Walpack (Sussex) at 1°. The 3rd found Walpack at 1° and three stations at 7°. High Point Monument and High Point (Sussex; at 1500 feet above sea level, approximately 30 feet lower than the Monument station) fell to 7° on the 5th. The 6th was the coldest day of March, with Walpack at -7°, Kingwood (Hunterdon) -4°, and Basking Ridge (Somerset) and Pequest each at -3°. That day, every one of the 54 NJ Weather and Climate Network stations fell to 14° (registered at West Cape May [Cape May]) or colder. Kingwood reached -6° on the 7th, with Pequest and Walpack each at -4°. The mildest temperature that morning was 19° in West Cape May.
The 13th found Walpack down to 14°, while Walpack was 11° and Berkeley Township 13° on the 19th. High Point Monument was 11°, and High Point and Walpack each 12° on the 23rd. The 24th saw Walpack at 10°, the Monument station at 12° and High Point 13°. Pequest fell to 14° on the 25th, with the Monument 12° and High Point 13° on the 29th.
Precipitation and storms
Monthly rain and melted snow amounted to as much as 6.47" in Monroe Township (Gloucester), 6.10" at Lacey Township (Ocean), 6.00" in Toms River (Ocean), and 5.95" at Pittsgrove (Salem). On the low end, two stations in Wantage received only 2.87" and 3.10", Bloomingdale (Passaic) 3.06", Hardyston (Sussex) 3.25", and Andover (Sussex) 3.36".
Snowfall for the month totaled as much as 22.1" in Bethlehem Township (Hunterdon), while in Franklin Township (Somerset) four stations accumulated 19.6", 16.3", 15.9", and 15.7". South Brunswick (Middlesex) reported 19.0", Freehold (Monmouth) 18.1", and Flemington (Hunterdon) 18.0". Far south Jersey locations saw the least snow, with 5.6" in Wildwood Crest (Cape May), 5.8" at Woodbine and Egg Harbor Township, and 6.0" in Middle Township (Cape May).
It took next to no time for the snow flakes to start flying in March, with an event on the 1st that brought a mix of snow, sleet, freezing rain, and rain in various quantities to the entire state. Northeastern Jersey saw the most snow with Roselle (Union) catching 4.9", Newark Airport (Essex) 4.5", and 4.0" at Harrison (Hudson), North Arlington (Bergen), and Rutherford (Bergen). Mostly 2"–3" fell in the northern half of NJ, 1"–2" from Route 1 south to Interstate 195, and less as you went further south. Rain and melted frozen precipitation totaled as much as 0.76" in Estell Manor, 0.74" in Pittsgrove, and 0.71" at Egg Harbor Township.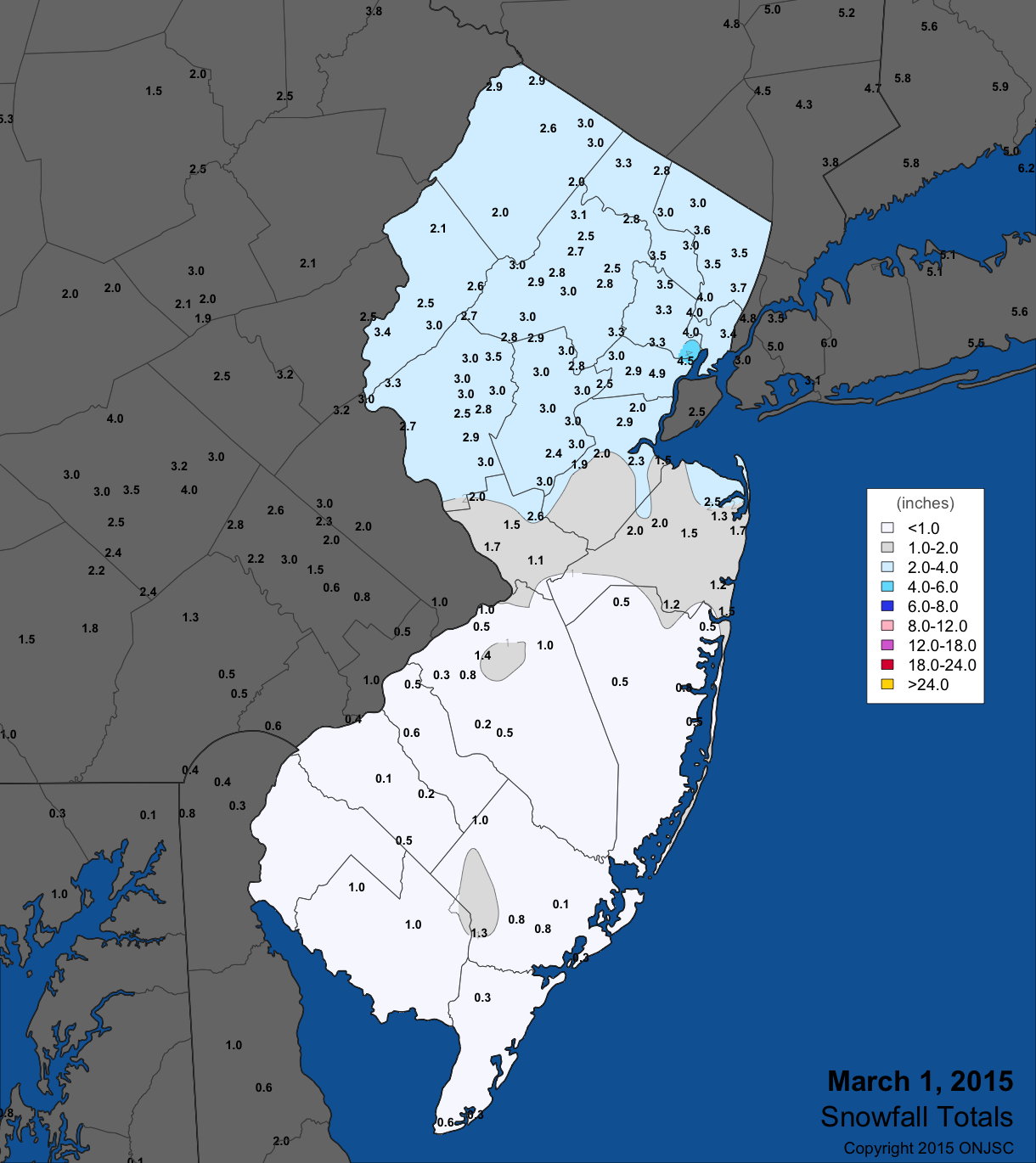 Figure 1. March 1st snowfall totals from National Weather Service (NWS) Cooperative observers and spotters, and CoCoRaHS volunteers. For larger view, click here.
A complex three-day precipitation event from the 3rd to 5th first brought a variety of precipitation types throughout NJ on the afternoon and evening of the 3rd. Generally 1"–3" fell in the northern half, with as much as 3.2" in Montague and 3.0" at Highland Lakes, each in Sussex County. Rain fell intermittently across NJ on the 4th, becoming steadier and heavier late in the day. The precipitation changed back to snow during the predawn hours of the 5th and became moderate to heavy during the morning and afternoon as temperatures plummeted through the 20s into the teens. A broad area of 6"– 8" accumulated over much of the state on the 5th, except 4"–6" in the extreme south and 6" near Interstate 80 tapering to about an inch in far northwest Sussex County. At least 9.0" accumulated in four central counties, including 9.4" in Wertsville (Hunterdon), 9.0" in Freehold and Rumson (Monmouth), 9.0" in Brick Township (Ocean), and 9.0" at Franklin Township (Somerset). Precipitation for the three-day event was in the 1.00"–2.00" range over most of the state. Lacey Township caught 2.35", Berkeley Township 2.27", South Brunswick 2.24", and Medford Lakes (Burlington) 2.18", while just under an inch fell in Sussex County.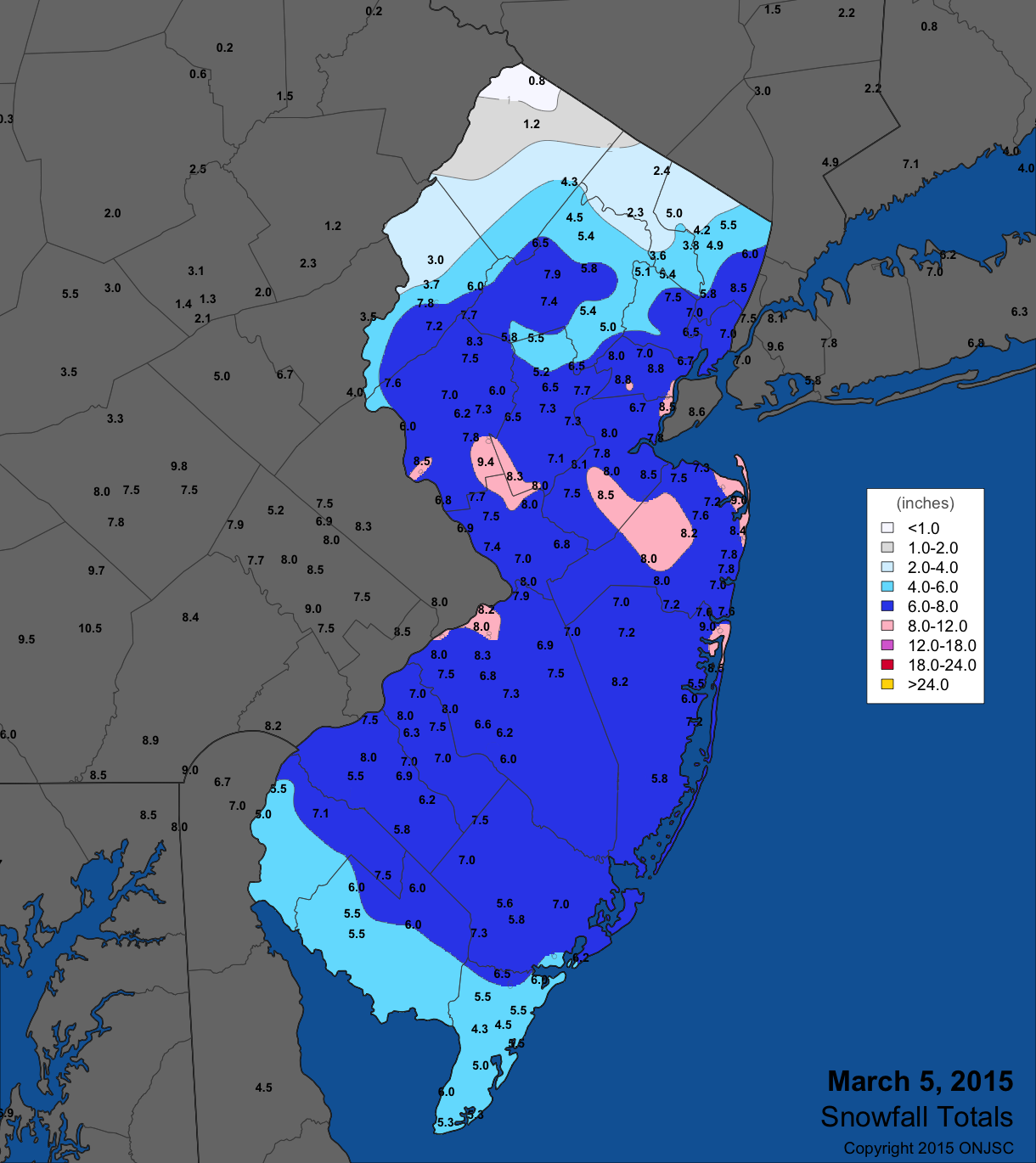 Figure 2. March 5th snowfall totals from National Weather Service (NWS) Cooperative observers and spotters, and CoCoRaHS volunteers. For larger view, click here.
The 14th brought a moderate rain event statewide from the pre-dawn hours through the evening. Rain fell heaviest in the south, with scattered areas exceeding an inch. They include Woodbine with 1.62", Middle Township 1.58", and Upper Township (Cape May) 1.56". Most of the state saw 0.50" to 1.00".
Snow returned to the Garden State on the first day of spring (March 21st), arriving in the morning and continuing at a moderate to heavy pace through the early evening. Commonly, 6"–7" was observed in northern Burlington (Wrightstown 7.0"), northern Ocean (Jackson 7.5"), Monmouth (Howell 7.8"), and portions of Mercer (Robbinsville 7.5") counties. Totals tapered off to about 4" south of the Atlantic City Expressway, while in the north 3"–4" fell north of Interstate 80. The liquid content of the snow was between 0.50" and 1.00" over central and southern regions, and less than 0.50" further north. Lacey Township received 1.45", Pine Beach (Ocean) 1.35", and two Stafford Township (Ocean) stations 1.09" and 1.31".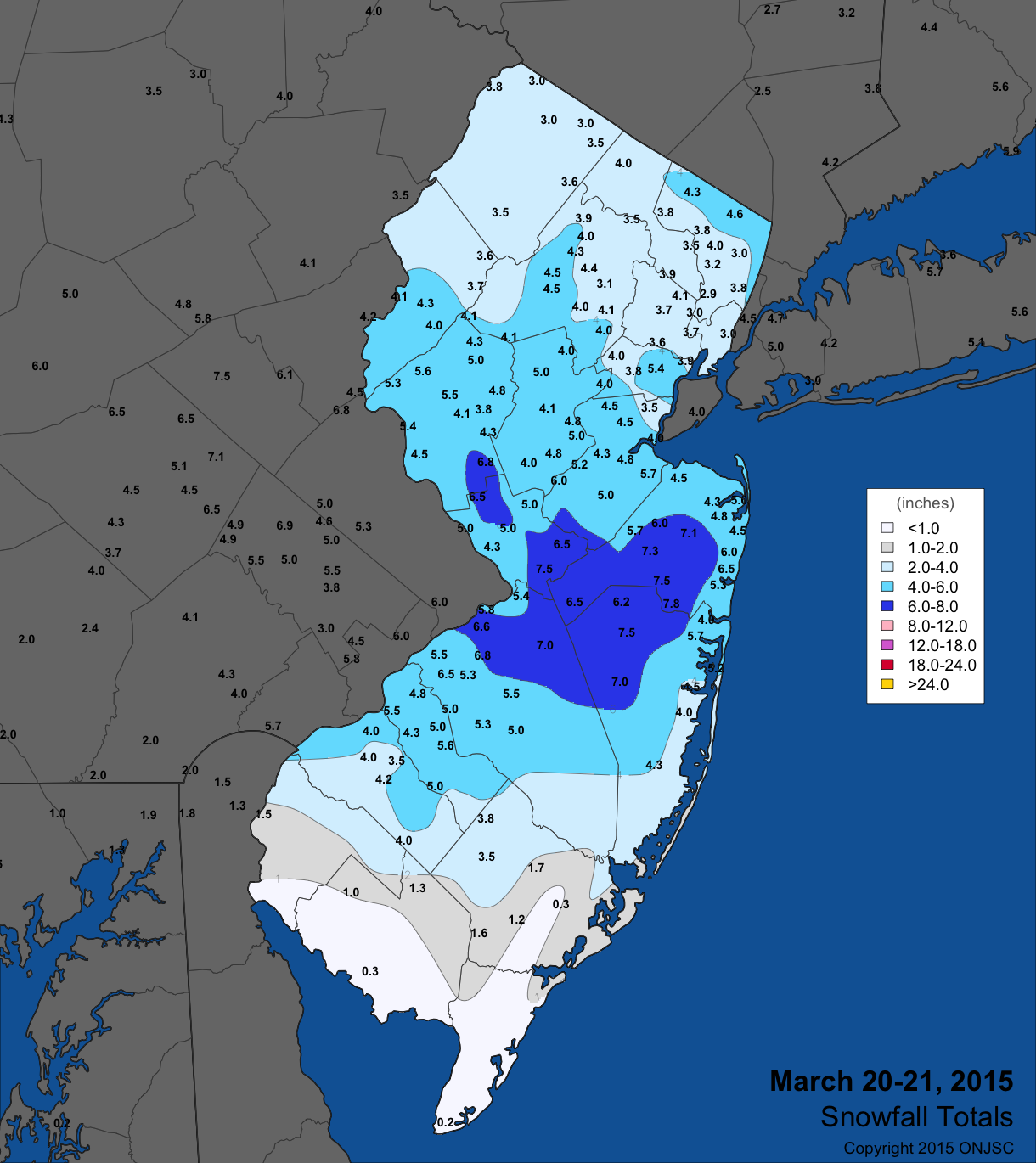 Figure 3. March 20th-21st snowfall totals from National Weather Service (NWS) Cooperative observers and spotters, and CoCoRaHS volunteers. For larger view, click here.
Rain fell across the state from late evening on the 26th through the morning of the 27th. Some thunder was heard during the course of this event in scattered locations. Totals from 0.50"–1.00" were common across most northern and central areas, with less than 0.50" further south. Middletown (Monmouth) topped the list at 1.20", followed closely by 1.19" in South River (Middlesex) and 1.16" at Lebanon (Hunterdon). On the last day of March a clipper system brought a few inches of snow to the northwest corner of the state. Randolph (Morris) and Highland Lakes each received 3.0", the highest NJ totals. Elsewhere up to a few tenths of light rain was observed and some thunder was heard. This snow event was the 19th of the season (since November) where at least one NJ station received 2" or more of the white stuff. This is just below the record count of 20 during the 2013/14 snow season, thus it is the second largest total count in the ONJSC's 12-year evaluation of such events.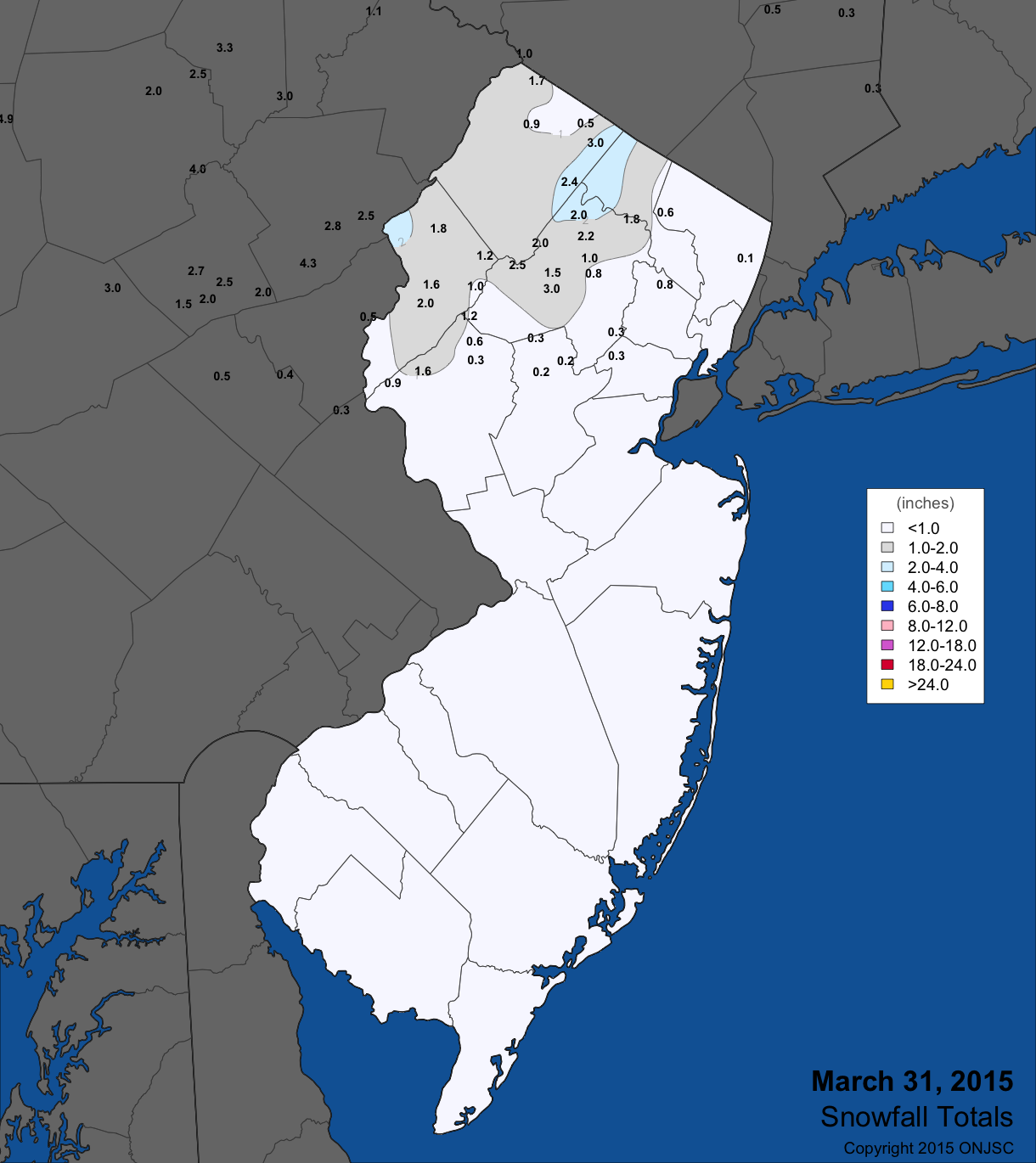 Figure 4. March 31st snowfall totals from National Weather Service (NWS) Cooperative observers and spotters, and CoCoRaHS volunteers. For larger view, click here.
The barometer was at its highest level of March on the 1st, with values from 30.70"–30.75" across the state. Pressures bottomed out at approximately 29.55" on the 17th.
Wind gusts equaled or exceeded 40 mph at one of more NJ location on 11 days. All but two of those days included gusty winds meeting the criterion at High Point Monument. On the 2nd the Monument site gusted to 50 mph and Wantage to 43 mph. Oswego Lake (Burlington) reached 44 mph on the 5th, with High Point Monument to 40 mph. The latter site stood alone at 42 mph on the 11th and gusted to 56 mph on the 12th, when Sea Girt (Monmouth) reached 41 mph, Wantage 40 mph, and 17 other NJWxNet stations in the 30's mph.
The 15th through the 18th was a windy period. On the 15th the Monument reached 58 mph, Wantage 47 mph, Harvey Cedars (Ocean) 44 mph, five other stations 40–43 mph, and 27 stations in the 30's mph. The Monument reached 41 mph on the 16th. The 17th was the windiest day of the month, with High Point Monument to 58 mph, Wantage 52 mph, ten stations between 40–48 mph, and 24 stations in the 30's mph. The Monument registered the peak monthly gust of 64 mph on the 18th, with Wantage up to 45 mph and Harvey Cedars 42 mph. The 22nd saw the Monument at 42 mph, and the 26th found Berkeley Township up to 43 mph and Harvey Cedars at 41 mph. Wantage gusted to 42 mph on the 28th.