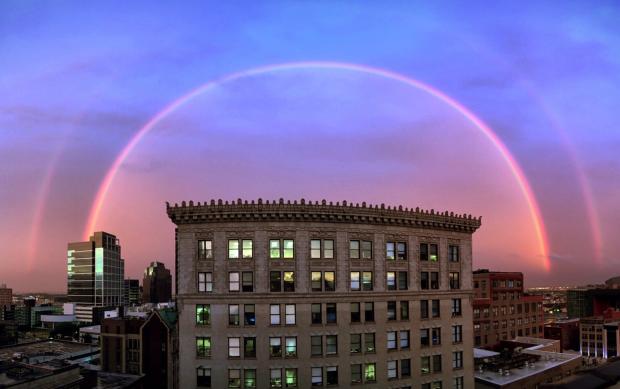 A rainbow arcs across the downtown Newark (Essex County) sky after storms on the evening of June 19. Photo by Twitter user @davidmkirby.
June Overview
Occasionally there are months that defy a "directional" theme when it comes to the weather and climate conditions experienced across the Garden State. In other words, conditions didn't lean markedly toward, for example, wet or dry, cold or warm, or calm or stormy. June 2017 was one of those "potpourri" months. There were thunderstorms with drenching rain and even two tornadoes occurred, yet there were stretches of comfortable, dry weather. There was a three-day heat wave, with the temperature going as high as 97°, and some cool nights, with 35° being the coldest observed temperature in the state. When the precipitation was added up, the statewide average came out to 3.34", which was 0.67" below the 1981–2010 mean of 4.01" and ranks as the 54th driest June of the past 123 years. The statewide average temperature of 70.5° was 0.7° above average. This ranks as the 27th mildest June on record.
Temperature
Seven June afternoons saw the temperature soar into the 90°s somewhere within the state. The first such occurrence was on the 11th, the first day of the only three-day heat wave of the month. Toms River (Ocean County), Hamilton (Mercer), and Hawthorne (Passaic) all reached 94°, with 46 of the 64 NJWxNet stations between 90°–93°. Thanks to southwesterly winds coming off the adjacent Delaware Bay, Fortescue (Cumberland) at 81° began a three-day run of having the lowest maximum in NJ. Atlantic coastal stations experienced cooling sea breezes most afternoons, but not before late morning temperatures reached well into the 80°s or even low 90°s. The 12th saw Hawthorne up to 96° and eight stations at 95°. 42 locations reached 90°–94°, with Fortescue at 82°. The 13th was the hottest June day, with Hawthorne and Wayne (Passaic) at 97°, ten stations at 96°, and 45 locations 90°–95°. Fortescue made it to 83°. With humidity levels high, the low temperatures on the 13th were commonly near or above 70°. Point Pleasant (Ocean) ranged from a low of 76° to a high of 95°.
Seven stations reached 90° on the 18th, Hamilton (Mercer) and Wayne saw 91° on the 19th, and Hamilton (Mercer) and Hillsborough (Somerset) each reached 90° on the 22nd. The 30th saw the maximum spike to 96° in Hawthorne, reach 93° in Upper Deerfield (Cumberland), and sit between 90°–92° at 33 other NJWxNet locations. Harvey Cedars (Ocean) experienced an onshore flow throughout the day, thus only rose to 74°.
Twelve June days had minimum temperatures in the 30°s or 40°s somewhere in NJ. All but three of these occurred in the first ten days of the month. Walpack (Sussex) fell to 48° on the 1st. Walpack was a chilly 42° on the 2nd, with Basking Ridge (Somerset) and Pequest (Warren) close behind at 43°. The 3rd found Walpack down to 39°, Berkeley Township (Ocean) at 42°, Pequest and Basking Ridge 43°, and 32 other NJWxNet stations between 44°–49°. The coldest morning of the month was the 4th, with Walpack at 35°, Pequest 39°, Berkeley Township and Basking Ridge each at 41°, and 40 locations between 44°–49°.
The 6th was a cloudy and cool day statewide, with lows of 44° at High Point Monument (Sussex; elevation 1795 feet) and 46° some 367 feet lower at High Point (Sussex). These locations only reached maximums of 52° and 54°, respectively, with West Cape May (Cape May) at 58° having the state's highest maximum. The 7th found lows of 43° at the Monument and 45° at Walpack and High Point. The 40°s ruled most of NJ on the morning of the 8th, with Berkeley Township at 40°, Basking Ridge 41°, and 51 locations between 43°–49°. This continued on the 9th, with Berkeley Township 41°, both Woodbine (Cape May) and Kingwood (Hunterdon) 42°, and 51 stations between 43°–49°. Walpack was 46° on the 10th.
Lows in the 40°s later in the month included 48° in Berkeley Township on the 15th, and Walpack 47° and Pequest 49° on the 26th. A chilly 43° was experienced at Walpack on the 28th, with Pequest 45°, Basking Ridge 47°, and four stations at 48° or 49°.
Precipitation and Storms
The showery nature of warm-season precipitation most always leads to a wide range of monthly totals around the state, with this past June no exception. Edison (Middlesex) took top honors with 6.37". This led a central Jersey maximum zone that also included 6.16" in Hopewell Township (Mercer), 6.00" at Westfield (Union), 5.96" in Franklin Township (Somerset), and 5.90" in Pennington (Mercer). Coastal areas saw the least rain, including Sea Isle City (Cape May) with only 1.70", Eatontown (Monmouth) 1.76", Lacey Township (Ocean) 1.77", Berkeley Township 1.78", while both Brick Township (Ocean) and, in the southwest, Franklin Township (Gloucester) caught 2.10".
There were six events where totals eclipsed 1.00" at CoCoRaHS or NJWxNet station locations. The first was a complex pattern of showers that began on the 4th, with rain sliding from north to south. Rain continued in the predawn hours of the 5th with thunderstorms in central NJ, followed by afternoon and evening rain in the south. Rain again fell in the north early on the 6th, followed by occasional rain, especially in the southwest, during the daytime hours. Totaled up, Galloway (Atlantic) with 2.02" received the most, followed by Port Republic (Atlantic) 1.69", Linwood (Atlantic) 1.42", Bivalve (Cumberland) 1.23", Greenwich (Warren) 1.22", Egg Harbor City (Atlantic) 1.16", and both Franklin Township (Somerset) and Montague (Sussex) 1.15".
Scattered morning showers on the 14th brought Jersey City (Hudson) 1.15", Woodstown (Salem) 1.05", and Franklin (Sussex) 1.00". Little or no rain fell across most of the state. The late morning into early evening of the 17th saw moderate showers mainly in a zone from southern Hunterdon County east-northeast to Union, Hudson, and northern Middlesex counties. Jersey City again took top honors with 1.71", followed by 1.33" in Linden (Union), a 1.30" outlier in Jackson Township (Ocean), Kingwood 1.28", and Edison 1.24". Little to no rain fell in the far northwest and southeast.
The first of two major June events began with heavy mid-day rain in the far northwest on the 19th. Storms moved southward during the afternoon and evening, ending early on the 20th. In Sussex County, Wantage was deluged with 3.83", High Point 3.70", High Point Monument 3.50", Montague 2.34", and Walpack 2.04". In central NJ, Piscataway (Middlesex) received 2.17" and a Franklin Township (Somerset) location 2.03". Some 62 of 220 CoCoRaHS reports came in with between 1.00"–2.34". Reports of strong winds bringing down trees and power lines were received from locations in Bergen, Gloucester, Hunterdon, Middlesex, Ocean, and Warren counties. No deaths or injuries were reported. Maximum gusts were reported to be as high as 63 mph at Newark Airport (Essex), Cape May (Cape May) 59 mph, Pennsauken (Camden) 46 mph, Fortescue 44 mph, Lyndhurst (Bergen) 43 mph, and 40–41 mph at five other NJWxNet locations.
Afternoon to early evening thunderstorms on the 21st delivered the heaviest rain along the Ocean-Monmouth border and in Cumberland and northern Cape May counties. Lakewood (Ocean) received 1.19", Brick Township 1.16", and Woodbine 1.02". Reports of downed trees and wires were received from Ocean, Burlington, and Camden counties. Winds gusted to 50 mph in Harvey Cedars, 47 mph at Moorestown (Burlington), 44 mph in Pennsauken, and 43 mph at West Creek (Ocean). Little to no rain fell in northern locations.
The most powerful event of June began on the evening of the 23rd when scattered storms crossed northern and central areas. Early on the 24th, energy and moisture associated with the remnants of Tropical Storm Cindy (which came onshore in Louisiana several days earlier) surged across the state. Over two inches of rain fell in under two hours in some central locations, in some cases adding hefty totals to the previous evening's soaking. Meanwhile further south, while the rain was not as heavy, severe storms included a microburst in Browns Mills (Burlington) and two EF0 tornadoes in Howell (Monmouth). As for the rain, as much as 3.22" and 3.21" fell at two Hopewell Township stations, with 2.73", 2.28", and 2.17" at three other Township locations. Elsewhere, Pennington (Mercer) caught 2.79", Oxford Township (Warren) 2.71", Greenwich Township (Warren) 2.68", Mansfield Township (Warren) 2.63", and Franklin Township (Somerset) 2.59". Of 210 CoCoRaHS reports, 46 were in the 2.00"–3.22" range and 56 between 1.00"–1.99". Most of Hunterdon, Warren, Mercer, Somerset, Middlesex, and Union counties saw more than an inch. Further north, 0.50"–1.00" totals were common, while much of the southern third of the state saw close to 0.50". Sea Isle City was on the short end with 0.06" and 0.11" at two locations.
Fortunately, no injuries or fatalities occurred in any of the storms. There were reports of building, auto, tree, and power line damage from Cumberland up to Mercer counties and eastward toward the coast. The 7:05AM microburst had estimated winds up to 75 mph. The first tornado began in a shopping center parking lot at 7:21AM and took a half-mile long, 40-yard wide track in less than two minutes. Winds were estimated to be up to 75 mph. The second one occurred at 7:27AM in a wooded park about 3.5 miles east-southeast of the first tornado. It traveled 0.3 miles and was 25 yards wide. These three reports were all confirmed by the National Weather Service, following field visits to each site. Strong winds were observed at NJWxNet stations in Pennsauken with 40 mph on the 23rd, and on the 24th, Mullica (Atlantic) at 48 mph, Fortescue 46 mph, Woodbine 42 mph, and High Point Monument 41 mph.
The highest barometric pressure readings of June occurred on the 28th and 29th with a rather low (for a monthly maximum) 30.15"–30.20". The monthly low was 29.50"–29.60" on the stormy 24th. NJWxNet station wind gusts of 40 mph or greater during the month have all been included in the preceding paragraphs, occurring on the 19th, 21st, 23rd, and 24th.
First Half of 2017 Overview
Statewide, the first six months of 2017 averaged 50.3°. This is 2.6° above normal and ranks as the 3rd mildest since 1895 (tied with 2010). Precipitation (rain and melted snow) averaged 23.15" across NJ from January through June. This total is 0.85" above normal and is 40th wettest.
| Rank | Year | Jan.–Jun. Avg. Temp |
| --- | --- | --- |
| 1 | 2012 | 52.0° |
| 2 | 1998 | 50.9° |
| 3 | 2010 | 50.3° |
| 3 | 2017 | 50.3° |
| 5 | 2002 | 50.2° |
| 5 | 1991 | 50.2° |
| 7 | 2006 | 49.9° |
| 8 | 1990 | 49.6° |
| 9 | 1921 | 49.4° |
| 10 | 1949 | 49.4° |
Table 1. The ten warmest January–June periods across NJ since 1895.
An examination of stations within the CoCoRaHS network shows Monmouth and Ocean counties had the wettest first six months of the year, with overall totals 4.00"–5.50" above average. Locations in the southwest and northwest saw the least precipitation with totals 0.50"–2.00" below average. Six month totals topped out at 32.93" in Belmar (Monmouth), Lacey Township 32.09", Lavallette (Ocean) 31.92", Berkeley Township 31.85", and Eatontown 31.58". On the dry side, Burlington (Burlington) came in with 21.45", Woodstown (Salem) 21.48", Florham Park (Morris) 22.08", Andover Township (Sussex) 22.10", and Franklin Township (Gloucester) 22.26".
As a result of generally ample precipitation, drought warnings and watches for much of the state were lifted during spring. Sub-normal reservoir levels in Hunterdon County have resulted in a drought warning continuing in that county and in Somerset County, further downstream in the Raritan basin.