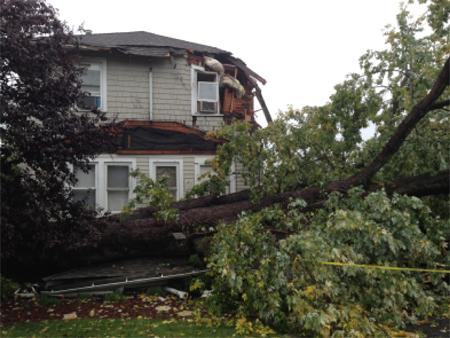 The first week of October was nothing but bizarre, or at least to most New Jerseyeans it seemed that way. The period included unseasonably warm weather, heavy rain, strong winds and even a tornado. It was all credited to a stationary front that held in position in Southern New York, which allowed warm air to enter the Garden State. The warm air was later pushed out, when a sharp and potent cold front from the Midwest set off severe storms and heavy rain in parts of the area.
The beginning of October was undeniably warm throughout the Garden State. Newark Airport recorded temperatures in the mid 80's during the first four days of October, even making it to 89° on October 4. This reading was the highest reading for October 4 in the station's 78 year history. Furthermore, Newark's first week of October 2013 has been the warmest on record for that station. Other records for October 4 were broken as well throughout the state. Atlantic City Airport reached 87° on the date for the first time in its 55 year station history. A few COOP stations also broke records during the warm spell. A new record was set for the 24 hour period prior to October 5th at 7AM in Mt. Holly, with a maximum temperature of 85°. Cape May 2NW also broke records for October 4 (which reports at midnight), reaching 87° (119 year period of record).
As a cold front approached on October 7, severe storms, heavy rain, and winds were set off throughout the state. According to the Storm Prediction Center, there were 20 reports of high winds across the state, with the majority of the reports coming from Bergen County. A storm survey conducted by the Bergen County Office of Emergency management for the National Weather Service confirmed that a tornado did touch in Paramus (Bergen County). The official report indicates that wind speeds reached 100 mph, classifying this tornado as an EF-1 on the enhanced Fujita scale. The tornado was around 100 yards wide and traveled a little over 1 mile. Luckily, no deaths or injuries were reported. Most of the tornado damage was confined to a cemetery.
However, other straight line winds caused a roof collapse, downed power lines, and damage to some local stores in areas of Bergen and Passaic counties. Haworth (Bergen County) and Hawthorne (Passaic County) recorded 32 mph, and 25 mph, respectively. Our Chatham Twp (Morris County) Safetynet sensor recorded a 50 mph gust from the storm in addition to .56" rain. Basking Ridge (Somerset County) recorded a 42 mph wind gust. Some other areas got drenched with rain including High Point and Wantage, both receiving over 1.00" of precipitation. Many stations recorded around 0.75" of rain including Piney Hollow, Pequest, Mansfield, and Dennis Twp. Other areas of the state received anywhere from 0.30" to 0.50" of rain.