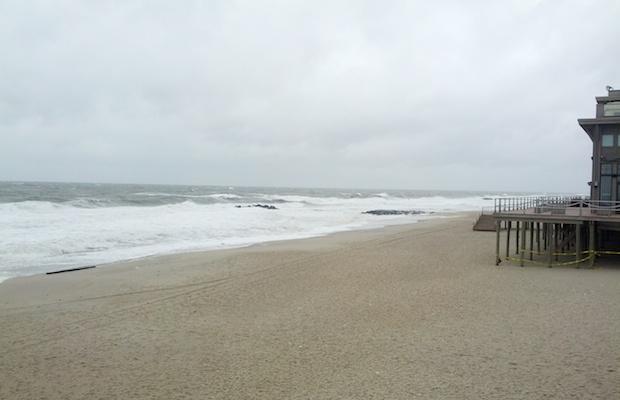 Photo: Will this Fourth of July holiday bring stormy or sunny skies to the Jersey Shore?
(Credit: Dan Zarrow, ONJSC, 3/6/13)
The Fourth of July embodies the meaning of summer. Whether on a serene beach in Barnegat Light or in a crowded suburban backyard, New Jerseyans (and all Americans) come together for the day to celebrate our nation through excessive eating, relaxation, fireworks, and sporting the red, white, and blue. We welcome the chance to barbeque with family and friends, and just like any gathering, there is a family member you avoid... Maybe it's the uncle that eats all the food... Or the aunt who chews your ear off with anecdotes... This year, however, you'll have to keep an eye on Mother Nature.
This Friday forecast looms ahead of us with a chance of showers, which is nothing unusual. These storms look as though they should pass around noon, as a cold front advances through our region. However the impending impact of separate tropical system is far from the usual, as Tropical Storm Arthur was officially confirmed Tuesday morning.
As of Wednesday afternoon, Arthur is sitting just off the east coast of Florida and is predicted to accelerate north along the coast reaching Nova Scotia by Saturday. There is a possibility for landfall in North Carolina's Outer Banks as a hurricane on early Friday morning before turning northeast during the day due to aforementioned front pushing it off the coast. With a bulk of the storm activity on the east side of the circulation, it will most likely not impact our area with rain as it turns away from the coast. (For updates on Arthur and future tropical systems, see the National Hurricane Center web site.)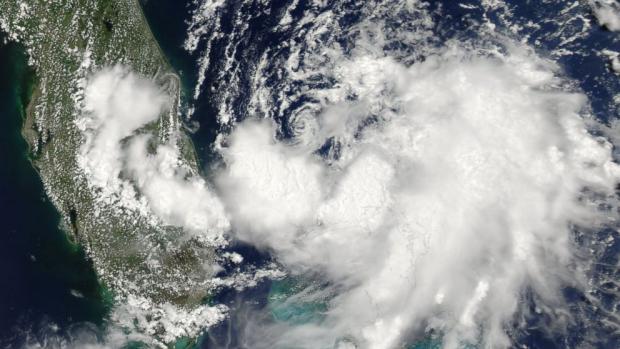 Photo: July 1 satellite photo of Tropical Storm Arthur, just off the coast of Florida.
(Credit: NASA / ABC News)
Since naming era of tropical cyclones began in 1950, a storm has never made a US landfall on the Fourth of July. This is the first Atlantic hurricane season since 2009 when there hasn't been a named storm before July, and this is just the fifth time that has occurred in the last twenty years.
Arthur may become the first tropical system to influence the Garden State on the Fourth of July, even though the still-warming waters minimize tropical cyclone activity in the northern Atlantic states during July. The last system to drop rainfall in our area during July was Beryl in 2006, dumping a maximum of 3.23 inches in Newark. Hurricane Cindy passed offshore as a tropical storm from July 10-11, 1959; this was the closest tropical system to the Fourth of July in New Jersey, with a drenching 8.43 inches of rain in Belleplain and an average rainfall of 0.90 inches throughout the entire state. Last summer, Tropical Storm Andrea was sandwiched by two other non-tropical systems to give us a wet start to June, including a 5.72 inch rainfall in Toms River Township.
The threat of rain from the approaching cold front and from Arthur could give us our first statewide rain event on Independence Day since 2008, where some thunderstorms rolled during most towns firework display. Wantage (Sussex Co.) saw the most rainfall that year with 0.76 inches, Charlotteburg Reservoir (Morris) had 0.67 inches, and Cape May Courthouse led southern New Jersey with 0.64 inches (Table 1). Within the last ten years, while popup showers and storms are common, there hasn't been much statewide, widespread rain for Independence Day.
Year
NJ Stations that
Recorded Rain
Average Recorded
Rainfall (in.)
Max. Recorded
Rainfall (in.)
2004
14%
0.00
0.02 (Hillsborough)
2005
13%
0.00
0.02 (Hope)
2006
60%
0.09
0.72 (Woodbine)
2007
100%
0.29
0.76 (Wantage)
2008
94%
0.16
0.76 (Woodbine)
2009
8%
0.00
0.04 (Hillsborough)
2010
0%
0.00
0.00
2011
29%
0.05
0.98 (Cape May Courthouse)
2012
7%
0.07
0.66 (Berkeley Twp.)
2013
2%
0.00
0.01 (Howell)
Table 1. Rainfall on the Fourth of July from the last ten years. Data are solely from NJWxNet stations.
With storms projected to be rolling out in the morning on the Fourth and potential rainy conditions from Arthur, it looks as though temperatures won't climb much. A beach day may be out of the question with highs not expected to leave the mid-to-upper 70's.
The last four July 4ths have been warmer than normal with statewide high temperature averages each year at least 86 degrees Fahrenheit (Table 2). Temperatures this year will be more in line with the 2007 and 2008 historical numbers, as those years saw rain throughout the day as well. Wantage (Sussex Co.) holds the record for the last ten years with chilliest high temperature for the Fourth of July at 66 degrees Fahrenheit, and also holds the third coldest average on Independence Day with 80.4 degrees. Harvey Cedars (Ocean Co.) on Long Beach Island is the coolest station on average with an average of 79.3 degrees over the past July 4ths, with High Point close behind at 80.2 degrees.
So "the Fourth" weather isn't looking too hot, in the temperature sense and with possible inclement weather rolling through in the morning. Let Mother Nature eat all the dip and tell you the same story repeatedly on Friday. She will make it up for the remainder of the weekend as conditions look to clear up by Saturday morning, yielding two beautiful days for Saturday and Sunday.
July 4 High Temperature
Year
Maximum (°F)
Average (°F)
Minimum (°F)
2004
87 (Wayne)
81.9
76 (Sea Girt)
2005
87 (Hawthorne)
80.4
72 (Seaside Heights)
2006
93 (Point Pleasant)
87.2
81 (High Point)
2007
82 (New Brunswick)
72.7
66 (Wantage)
2008
87 (Woodbine)
79.3
68 (High Point)
2009
83 (4 Stations)
80.2
72 (High Point)
2010
100 (Hillsborough)
94.8
88 (2 Stations)
2011
91 (South Harrison)
87.1
81 (High Point)
2012
97 (Mansfield)
92.0
83 (Atlantic City Marina)
2013
93 (Hawthorne)
86.8
75 (Harvey Cedars)
Table 2. The maximum, average, and minimum high temperatures for the Fourth of July for each of the last 10 years. Only NJWxNet stations are included.