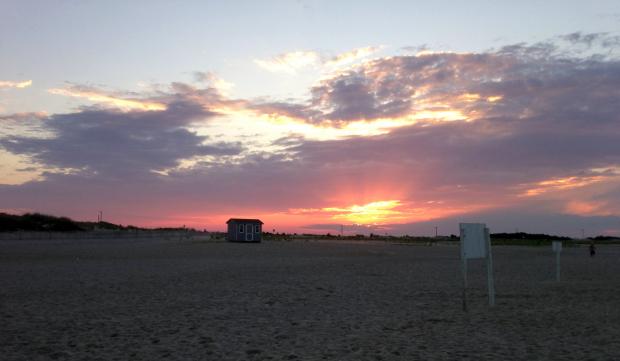 Sunset at Sandy Hook (Monmouth County). (Credit: Dave Robinson, ONJSC)
Another comfortable mid-summer air mass is destined to invade the Garden State this week. This arrives on the heels of several other mild, dry air masses that have contributed to making this a rather average July in the temperature department. While many may think that this has been an exceptionally cool summer, it has not. However, given that the most recent four Julys all ranked within the top six for heat dating all the way back to 1895, all are forgiven for any misperception!
The overall pattern that has led to temperatures more often being on the cool than than warm side of the ledger since last fall is one of pronounced waviness in the jet stream, with a resultant tendency for a ridge (northward swing) in western North America and a trough (dip in the jet) in the east. This allows cool and dry air to infiltrate our region, with warm and humid air kept at bay to the south. It has also kept the west in severe drought and plenty warm.
Given New Jersey's mid-latitude location, the battle between southern warmth and northern coolness is often fought in this region, be it in winter or summer. In summer we often talk about the Bermuda High and whether it can pump hot and humid air up this way or is kept at bay by cooler air from the north. Not that it hasn't done so on multiple occasions this summer (June was a bit above average and we've had several stints of warm, humid air this month), however, the Bermuda High heat pump hasn't persisted, thus making for a rather average summer for temperature and precipitation (thus far at least!).
Also likely contributing to most everyone's view that this has been a rather stellar summer in the weather department is the almost uninterrupted streak of sunny or at least mostly rain-free holiday and weekend weather. Whether our fine weekends and the overall atmospheric pattern will hold through the remainder of the summer is uncertain. However, by early August average daily temperatures begin a slow descent, thus most often late season hot spells don't last as early as those earlier in the summer.