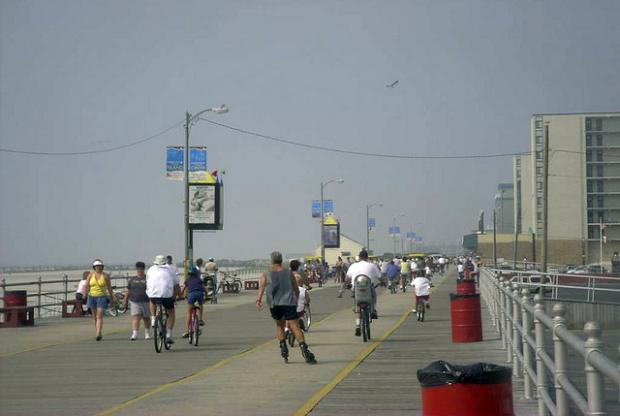 A week after the unofficial start of summer many areas saw temperatures soar, giving the Garden State its first heat wave of the season (a heat wave is defined as a hot period having at least three consecutive days of 90°+ temperatures), temperatures steadily rose throughout the period from May 29 to May 31, with most areas away from the shoreline getting into the low to mid 90's.
Just prior to the beginning of the heat wave on May 29, temperatures along the state's Turnpike corridor rose into the upper 80's. Our NJWxNet Woodstown station in Salem County recorded a high temperature of 88°, Cream Ridge in western Monmouth County recorded a maximum of 87°, and Haworth in Bergen County recorded a high of 86°. The story was not the same away from the urban corridor. Wantage (Sussex County) only made it to 80°, and Atlantic City Marina topped off at 71°.
Daytime high temperatures steadily increased on May 30. With many areas under a westerly wind, temperatures rose into the low 90's, which began a heat wave for much of the state. Haworth warmed up 6 degrees to reach 93°, 17 degrees above nearby Newark Airport's maximum daily average for May 30 (76°). Cream Ridge reached 92° while Woodstown recorded 91°. Sussex County was unable to escape the heat this time, with the Wantage station hitting the 90° mark. The state's hot spots for the day were Hillsborough Township in Somerset County, Oswego Lake in Burlington County, and Hawthorne in Passaic County, which all reached 94°. The news wasn't all heat at the Atlantic City Marina with the station only recording a high of 74°. The average temperature for this date at the marina is 70.7°. Further north along the shore, temperatures hovered in the mid 80's, with high temperatures of 85° in Sea Girt and 84° in Seaside Heights. All three locations were under the influence of a southeasterly sea breeze for much of the afternoon. Point Pleasant, however, was able to get a little warmer than its shore counterparts, with a high temperature of 89°. Pequest (Warren County) recorded a temperature low of a chilly 51°.
Some areas saw even warmer temperatures on May 31. With a similar westerly wind regime as the previous day, Haworth made it to 93°, while Cream Ridge and Woodstown both made it to 92°. The dew point at this time in Cream Ridge was recorded to be at 51°, which kept the heat index manageable. Wantage tried unsuccessfully to reach the 90° mark, making it to 89°. Atlantic City Marina and the shoreline once again stayed cooler than the rest of the state recording a mild high temperature of 76°. The state's warm spot once again included Hawthorne and Berkeley Township, both recording a high temperature of 95°. Just a few miles east of Berkeley Township in Seaside Heights, the high temperature was only 84°, which at times during the day recorded a cooling east northeast wind (gusting as high as 28 mph). The state's coolest nighttime spot once again was Pequest, which recorded 53° as its nighttime low.
Although June 1 was another hot day for the state, it was the beginning of the end of this first heat wave. With winds still coming predominately out of the southwest, temperatures once again in the turnpike corridor were in the low 90's, with Woodstown and Cream Ridge both reaching 90°. The Trenton airport average for June 1 is 76.8°. Haworth once again was a little bit warmer with 92°Atlantic City Marina only recorded a high temperature of 71° with a southeast wind holding the temperatures down. Other shore locations struggled to make it into the mid 80's as sea breezes from the east and south east held down the high temperatures. Wantage once again tried unsuccessfully to reach the 90° mark, recording an 89° temperature for the second day in a row. Hawthorne was once again the state's hot spot, recording a 94° temperature.
The heat broke on June 2, with temperatures moderating to the upper 80's for most locations. However, Sicklerville (Camden County) still recorded a daytime high of 91°. Atlantic City was once again on the cool side of things with a high of 68°.
This will most likely not be the last heat wave of the season. Any time temperatures rise into the upper 80's and beyond, it is important to take responsibility for your body's well-being. Remember to always listen to your National Weather Service office's advisories during a stretch of high heat. The American Red Cross advises you to always be aware of both temperature and heat index. You should always know how to cool off if you do not have access to air conditioning and what you will do in the event of a prolonged power outage in broiling heat. During any heat wave, it is also recommended that you frequently eat small meals, take breaks when going outdoors, and never leave children or pets in enclosed cars. You should also check on friends and family during the afternoon, and of course drink plenty of fluids, even if you are not thirsty.
As with all natural disasters, the Red Cross recommends that you always have a plan in place to deal with weather threats, and talk about these plans of action with friends, families, neighbors, and co-workers. For more information on taking precautions during a heat wave, and during other natural incidents, visit http://www.redcross.org/prepare/disaster/heat-wave.