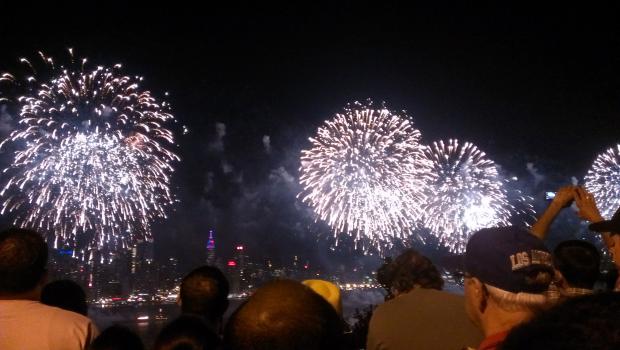 If you are like me, you cannot wait until the Fourth of July. It's a time when you are able to join the rest of the Garden State and celebrate everything New Jersey and American! This year I plan on spending my holiday with many fellow meteorologists down the shore, firing up the BBQ, and catching the Macy's Fireworks in Weehawken. These activities are not uncommon during July amongst Jersey residents and I wanted to take a look back at how well the weather "cooperated" the last few years.
Our tour of the state begins along the Jersey shore. On July 4, 2010, during the midst of a heat wave across the whole state, Point Pleasant reached a scorching 99°. 2011 was relatively cooler with temperatures only surmounting to a high of 87°. However, temperatures once again made it to the low 90's in 2012. Further down the Parkway, Independence Day 2010 had Toms River and Seaside recording 99° and 97° (respectively). Both locations were cooler both in 2011 and 2012. Atlantic City was much cooler than rest of the state during three years of Independence Day celebrations, with a high temperature of 91° in 2010, and temperatures not making it out of the 80's in 2011 and 2012. Will our shore towns make it to the 90 degree mark this year?
Three years ago in 2010, firework watchers in Liberty State Park waited and baked in 98 degree heat. Residents waiting for fireworks on the Raritan River in New Brunswick dealt with highs of 99° in 2010, 89° in 2011, and 94° in 2012. Further southwest in the state, the Cherry Hill area was also hot all three years, with temperatures reaching the low 90's in both 2010 and 2012.
If you're trying to escape into the hills, northwest of the Turnpike, you might find during a summer warm spell that it is not too much better. Hillsborough reached 100 degrees in 2010, and last year it was over 90 degrees in this area. Other areas including Basking Ridge, Hackettstown, Wayne, and Hawthorne both made it over 90 degrees in both 2012 and 2010.
In terms of precipitation, the amounts are scattered over the years. Scattered pop up thunderstorms that are very typical during July can vary the amount of rain recorded. As we recently saw, these storms, depending on location and track, can produce anywhere from a drizzle to 2" in a matter of an hour.
Personally, I love to bake in the heat. A hazy, hot, humid day at the beach and subsequently looking at my favorite city while waiting for some fireworks sounds exactly like the Fourth of July I want to have. Typically, normal factor such as sea breezes, morning cloud cover, afternoon thunderstorms, and the urban heat island affect, can greatly affect whether a location will break on the warmer or cooler side of a forecast. One thing that is for sure, whether it is a hot afternoon, a perfect beach weather day, or it is pouring buckets for an hour; it's great to be in Jersey for another Fourth of July.
*All station data was collected through our NJWxNet